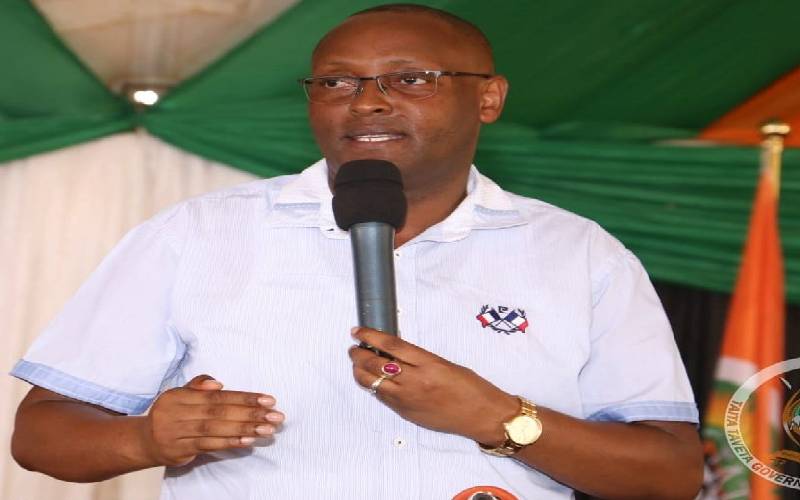 Taita Taveta Governor Granton Samboja (pictured) has commissioned the newly constructed outpatient block at Voi County Referral Hospital.
The new block will help ease congestion amid the rising numbers of Covid-19 cases in Taita-Taveta County.
The over Sh6 million new ultra-modern outpatient block is part of the county's initiative towards the realisation of Universal Health Coverage (UHC) in the region.
The largest referral facility serves accident victims and patients from as far as Mtito Andei and Taru trading centre along the busy highway.
Read More
According to the hospital's Medical Superintendent Felix Kimotho, the facility is the leading health care provider along the busy Nairobi-Mombasa highway and has been recording more than 200,000 general outpatients annually.
"We acknowledge the effort to complete and operationalise the block that has given the hospital a new beginning. This will help us meet our health care goals, efficiency, and improve the quality and effectiveness of health care workers when discharging their duties," said Dr Kimotho.
Speaking after commissioning the project, Samboja said his administration has made great strides in achieving the UHC through raising sustainable funding in the key health sector, improving the county health infrastructure, and installing the necessary medical equipment required for the Level 5 hospital.
"We have invested heavily in the expansion and face-lift of the facility to meet the required standards of offering quality health care services to the local community," said Samboja.
He reiterated his administration's commitment to prioritise the improvement of primary health care citing it as a critical foundation in the prevention of disease outbreaks.
"My government has made deliberate efforts to improve services in our five hospitals, 19 health centres and 43 dispensaries across the county. As part of the elaborate plan to improve services in our main hospitals, my administration has repaired the incinerator, renovated the mortuary, and refurbished the cold rooms at the referral hospital," added Samboja.
The county has further allocated Sh250 million towards the ongoing construction of a theatre at Mwatate Sub-County Hospital, renovation of an X-Ray block at Wesu Sub-County Hospital, and giving Moi County Referral Hospital a new look.