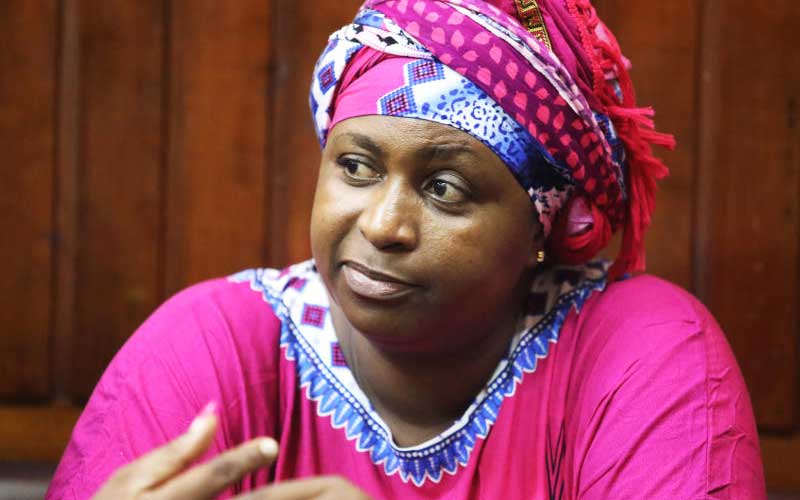 Malindi MP Aisha Jumwa's political career has been on a roller-coaster of drama and legal battles since 1997 when she contested and won the Takaungu Ward seat in Kilifi County.
She is currently facing embezzlement charges after the Director of Public Prosecutions (DPP) Noordin Haji ordered that she be arrested and prosecuted last week.
Jumwa and six others are suspected to have embezzled Sh20 million from the National Government Constituency Development Fund (NG-CDF) in Malindi. On Friday, the alleged co-conspirators were charged in a Mombasa court and released on bond.
This is one of the many legal and political trials that the 44-year-old lawmaker, who rose from a councillor to being the first woman MP in Kilifi County, has fought.
Read More
Incitement charges
Last year, she was arrested and detained in Mombasa for allegedly invading an Orange Democratic Movement campaign meeting in Dabaso where, a man was shot dead.
In 2017, Jumwa and several Jubilee and ODM legislators were charged with incitement and held in police cells for close to a week.
It has been a life of drama and legal battles for Jumwa who was born in a polygamous family of 30 siblings.
She has won some and lost others.
She dropped out of Ganze Secondary School in Form Two in 1992. Five years later, in 1997, she won the Takaungu ward seat in Kilifi and was re-elected in 2002.
In 2006, she was elected Kilifi Town Council chairperson, the first woman to hold that position. In 2013, she was the first Kilifi County Woman Rep.
In past interviews, Jumwa has narrated the battle she had with her first husband who opposed her entry into politics, leading to their break up.
It is said that she returned the cows and goats her parents received as bride price after her husband gave her an ultimatum to quit politics and just be a housewife.
In 2007, she contested for Kilifi South parliamentary seat and lost to Benedict Gunda of ODM. All the seven constituencies in Kilifi have since independence been dominated by men.
Her close friends say her combative style of politics began after violence and intimidation her campaigners were subjected to by opponents during the 2007 polls.
On December 23, 2011, Jumwa led a crowd to eject ODM officials from Kilifi Kanu offices despite the fact that she had by then defected to Narc.
The ODM youth had stormed the office and destroyed the Kanu symbol, tore the party's flag and branded it with the Orange party colours. They then erected ODM flag.
But in recent years, Jumwa has emerged as a political bride any suitor in the county's political terrain, especially presidential candidates, would wish to have in their corner.
Jumwa has had an on-and-off relationship with ODM and Raila Odinga, leading to disciplinary actions and her de-whipping from the national assembly committees.
The March 19, 2018 peace deal between President Uhuru Kenyatta and ODM leader Raila Odinga, famously known as the "handshake", led to a rebellion by Coast ODM legislators, who now back Deputy President William Ruto.
She claims she danced herself lame for ODM in 2017 campaigns but sasa kiuno kina shughuli (my waist has work to do) - not dancing for ODM".
Last year, she was saved by the Political Parties Tribunal when ODM tried to expel her for rebelling against the party and the party leader.
In May last year, during the burial of Mombasa Deputy Governor William Kingi's father, she caused drama when she grabbed the microphone from ODM Secretary General Edwin Sifuna.
She accused Sifuna of disrespecting the Mijikenda culture by "politicising" the funeral service. She was apparently angered by Sifuna's attempts to explain why the party expelled her.
"Kumbe si mic pekee ananyakua (so she does not grab microphones only)," said Sifuna on Friday after the DPP directed the arrest and prosecution of Jumwa.
Although she is hailed as a dare-devil, her critics say her combative style of politics is her undoing, going by the number of court cases she has faced.
Jumwa claims she is being persecuted because she is backing Ruto's 2022 presidential bid. She has never provided evidence to back the claims.
Diploma in governance
Jumwa has expressed her interest in the Kilifi gubernatorial seat in 2022 openly declared her support for Ruto.
In 2011, she enrolled as a private candidate at Mombasa's Chandaria Hall for Kenya Certificate of Secondary Education examinations.
It is not clear what grade she scored but in 2012, she also graduated with a diploma in governance from Jomo Kenyatta University of Agriculture and Technology.
She is currently studying a bachelor's degree in international leadership and governance at the International Leadership University.