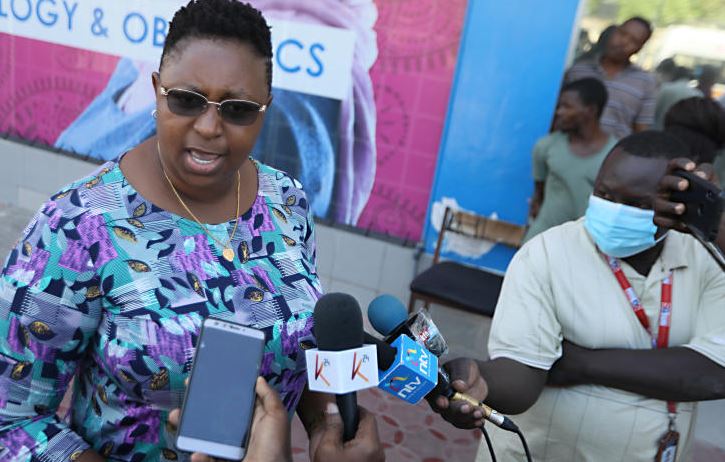 Malindi MP Aisha Jumwa who has not appeared in public since her indictment for embezzlement on Thursday surrendered to Mombasa police today.
Jumwa who is accused of embezzling Sh20 million and money laundering drove to Port Police station at exactly 12.15 pm, about fifteen minutes after posting an online video indicating her intention to comply with Friday's court order that required her to report at the station where he co-accused are held.
In the video, she appears to be leaving a house in a rural setting accompanied by a teenage girl but it is unclear where this is or if this is where she has been holed since Thursday.
When she failed to attend court on Friday, prosecutors claimed she was hiding, a claim she denied.
Jumwa was accompanied by her lawyer Jared Magolo, Nyali MP Mohammed Ali, Ex-Mombasa Senator Hassan Omar and some of her close family members.
Read More
She was processed by five detectives led by the Financial Crime Investigation Unit who had travelled from DCI Headquarters in Nairobi.
Sources said they took her fingerprints ahead of her arraignment Monday morning.
Jumwa who later addressed journalists outside the Standard Group offices along Moi avenue left the police station at 1:05 pm.
She denied that she has been on the run and said she arrived from Nairobi on Saturday evening.
"I couldn't have gone into hiding because the DCI has offices all over. There are DCI offices in Malindi, Mtwapa, Shanzu and so on. There is no place I could hide at all," she said.
She also claimed she was not aware of any report that she was being sought, saying she was available on phone.
"My phone has been on, nobody called me to appear before police officers. I was available all through and no one has been looking for me. I haven't travelled to Uganda nor Tanzania, I have been in Kenya," she said adding that she underwent all the processes at the police station and was ready for the court session tomorrow.
She further declined to discuss what charges she may face saying she could only do so after they are read out to her.
She said she could only be briefed but her lawyers have more details on the case. Jumwa denied meeting Deputy President William Ruto in Mombasa. "Ruto was here and I was in Nairobi. I only arrived here on Saturday night," she said.
Ms Jumwa said she was not special to be spared by the law enforcement agencies and she could be arrested and charged like any other Kenyan who has broken the law.
Other suspects who have already faced charges include the manager Wachu Omar Abdallah, officers Sophia Said, Bernard Kai, Margaret Faith Kalume, Robert Katana and government engineer Kennedy Otieno Onyango.
They took a plea on Friday at Mombasa magistrates court before Chief Magistrate Edna Nyaloti.
They were charged with thirteen offences including forgery, fraud in procurement and money laundering.
They denied the charges and were released on Sh10 million bond.