Matatu driver calls police on passengers from Kilifi County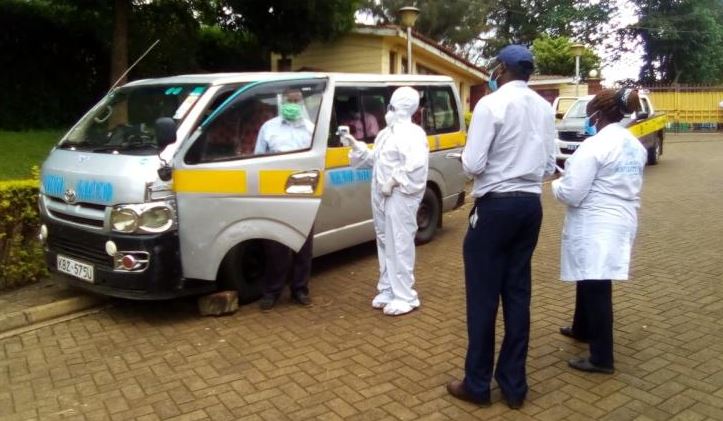 A matatu driver alerted authorities after he suspected that some of his passengers originated from a county that has several cases of the coronavirus disease.
The matatu was destined for Embu town from Kitui County when the driver, Samson Kariuki Nyaga, heard some passengers say they were from Kilifi County.
"A passenger said on phone that he was almost reaching Embu from Kilifi. I recalled that Kilifi is on partial shutdown due to Corona and I feared that I may have been exposed by those passengers and would infect my family and the community. I called the Neno Sacco office which then reported to the police," said Kariuki.
County Police Commander Daniel Rukunga said his officers, the public health and enforcement officers rushed to the bus terminus and intercepted the matatu as it arrived.
He said they directed it to the Kenya Medical Training Centre (KMTC) Embu campus where the occupants will be tested for the coronavirus and quarantined.
He added that the PSV had nine passengers and two of them were from Kitui county.
"After the mandatory quarantine, the two passengers will be prosecuted for travelling from Kilifi without authorisation from the government. The State has imposed a travel restriction in Kilifi County to curb the spread of Covid-19. This pandemic is real and is killing," he said.
Rukunga added that public health officers were after a passenger who alighted from the matatu. He urged the passenger to turn himself in at the quarantine facility.
"We urge matatu drivers to make an effort to know the origins of their passengers. We thank the driver of the matatu we intercepted for playing a crucial role in fighting Covid-19," said Rukunga.
Other passengers in the matatu complained about the inconvenience, saying they boarded the matatu on the way while going to town for short errands.
Meanwhile, Embu Public Health Director Rosaline Kaugi says the county has readied for sites for as quarantine centres.
They include the KMTC (30 beds capacity), Kenya School of Government Embu Campus (194), Camp David Hotel (71) and Whispering Hills Hotel (25).