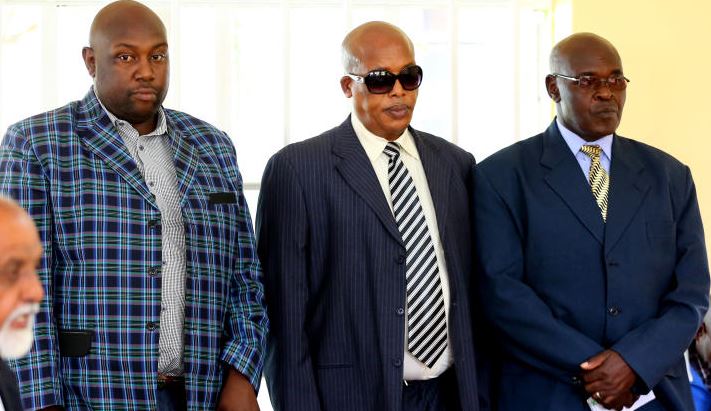 The man who masqueraded as a police officer and former Rift Valley Provincial Police boss John M'mbijiwe will know their fate tomorrow.
Joshua Waiganjo is jointly charged with M'Mbijiwe and ex-Anti-Stock Theft Unit Commandant, Michael Remi Ngugi, who died.
A notice from Kwale Law Courts indicates that Principal Magistrate Joe Omido will deliver the ruling via video conferencing which will be set up between Kwale Law Courts where the magistrate is stationed and Nakuru Law Courts.
Omido handled the case while in Nakuru before he was transferred to Kwale.
"That being a criminal matter, the accused persons are required to be present in person at the Nakuru High Court Board Room for purposes of delivery of the ruling," read the notice dated May 4. It is copied to the Office of the Director of Public Prosecutions and advocates representing the accused persons.
The ruling will determine whether Waiganjo and M'mbijiwe have a case to answer or not.
While Waiganjo faced a case of impersonation, M'mbijiwe and the late Ngugi faced abuse of office charges.
Waiganjo's case came to the limelight in 2012 and sent shock waves in the National Police Service.
His proverbial 40 days, however, came when he accompanied a team of senior police officers to Baragoi, Samburu County where bandits had killed more than 40 police officers and police reservists.
For years during the hearing of the case in Nakuru, senior police officers testified how he managed to weave his way through the police force with ease. The case, which had rare twists and turns, was closed after over 37 witnesses testified.