Kilifi deputy governor Gideon Saburi freed on bail, to go on mandatory 14-day quarantine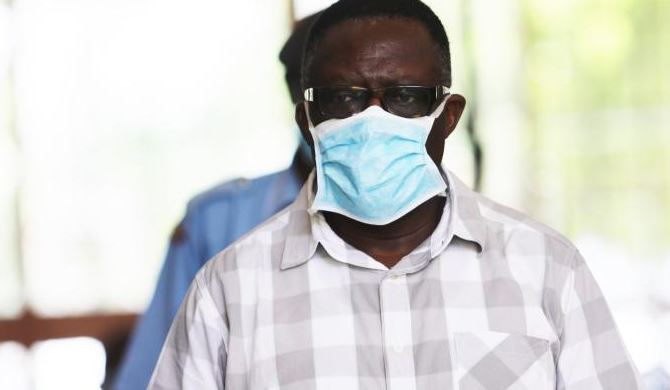 Kilifi Deputy Governor Gideon Saburi (above) has this morning been freed on Sh200,000 cash bail.
Mombasa based Chief Magistrate Elvis Michieka has also ruled that the deputy governor will go on an extra 14 days of quarantine, before the trial.
"The accused is required to self-quarantine for 14 days at his house beginning today, failure to which the court will be at liberty to cancel his bail," Judge Michieka said.
Other conditions that the court has set for the deputy governor include:
That the accused deposits all his travel documents i.e passport before his release and
That the accused will not contact any witnesses whether directly or by proxy.
Saburi has now spent almost 27 days in confinement, 14 at the Coast General Hospital during the forced isolation period and 13 in police custody.
The deputy governor is facing charges for defying the Covid-19 self-quarantine order.
In the case of a trial, Saburi could be prosecuted under the Kenya Subsidiary Legislation 2020 – The Legal Notice No 46 under the Public Health Act (Prevention, Control, and Suppression of Covid-19) Rules 2020.
The rules were gazetted on April 3, 2020, by Health Cabinet Secretary Mutahi Kagwe and provides penalties for those escaping from isolation and quarantine.
"In the event of a conviction, he will be required to pay a fine of Sh30,000 or serve a three-year jail term," Judge Michieka said.
Last week, a Mombasa court dismissed an application requesting to detain Saburi at Manyani Prisons.
The office of the DPP wanted the DG to be held at Manyani Maximum Security Prison, to enable police to complete investigations.
On April 7, President Uhuru Kenyatta said in a Gikuyu radio station that he preferred a hefty jail term for the Deputy Governor for endangering Kenyans' lives by failing to self-quarantine as required by health laws.
Saburi was arrested on April 3, 2020, after completing a forced quarantine period at the Coast General Hospital and being ruled out of danger.
He is facing charges for refusing to isolate himself, immediately after disembarking from Germany, a high-risk country with several Covid-19 infections.
He was declared fit by the Health Ministry after all three tests turned negative.