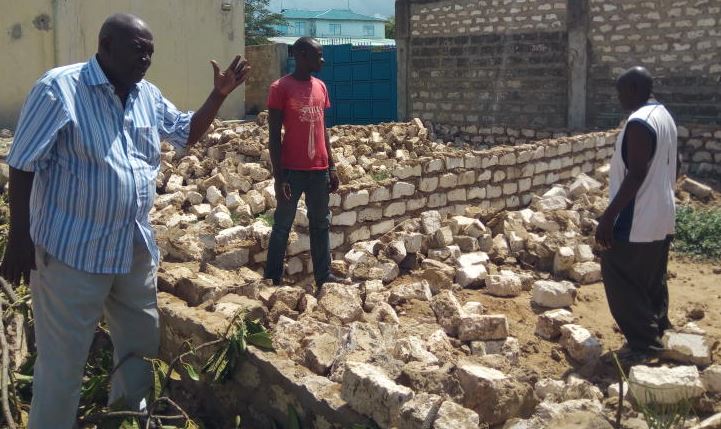 Police are yet to arrest suspects behind a series of demolitions targeting properties owned by non-locals in Likoni, Mombasa County.
In the latest case, a family whose home was nearing completion in Memon woke up to find it demolished. They had refused to pay Sh100,000 protection fee to a faceless criminal network and rogue elements in the land office.
The house located along Shelly beach road in Likoni Sub-county belonged to Patrick Michira. It was sandwiched between complete apartments and other properties under construction
Michira expressed fear for his life, claiming that unknown people have been following him after work.
His house has been demolished three times in what he claims to be punishment for refusing to pay protection money to cartels.
Michira is not the only victim of the cartels.
Another victim who gave his name only as Osman, for fear of victimisation, said his property was spared only because he paid Sh80,000 protection fee after being threatened with eviction.
On the run
Likoni Director of Criminal Investigations Richard Koywer confirmed the demolitions, saying the suspects are still on the run and that police are investigating the matter.
Koywer said the police have liaised with Mombasa County officials to establish some facts about land ownership in the area.
But Michira said the ownership of the land he had built on is not in dispute.
He said he bought the piece of land 10 years ago at Sh300,000 with the intention of developing it.
The Standard has since established that cartels identify land occupied by non-locals and work with rogue county staff to extort the owners. According to Michira, one county official asked for Sh100,000 which he said was the standard fee for non-locals who had bought land in the area to "appease the ancestors."
"He called me at night and told me that if I do not pay Sh100,000, I should forget building the house on the property," he said.
Michira refused to pay up. A few days later, his house was flattened, and when he tried to rebuild it, it was brought down again.
"I have lost more than Sh1 million," he says.
The family is now appealing to the county government to intervene and take action against the cartels in its midst.
Salim Mwinyi, who chairs the Likoni development community, condemned the demolitions and called for action against those behind them.
"Everyone has a right to live anywhere in the country without threats or intimidation as they are protected by the Constitution.
"Cartels must be stopped from extorting money from property owners," he said.