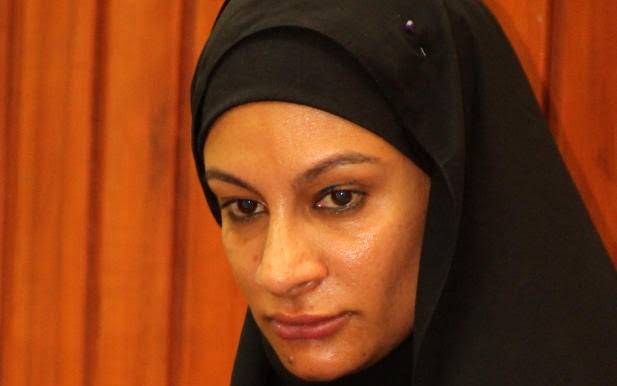 A widow charged with the murder of her husband by drowning him in a swimming pool in Watamu, Malindi, four years ago has been acquitted for lack of evidence.
Amina Shiraz (pictured) was tried for the murder of Jimmy Baburam. The prosecution had said that she collaborated with fugitive American Jacob Schmalze.
The prosecution, through state counsel Vincent Monda, had theorised that she and Jacob, her alleged lover killed her husband at Medina Palms on June 25, 2015 in order to get his Sh50 million life insurance policy and vast business properties in Nairobi and Dubai worth Sh500 million.
The defense, led by lawyer Jared Magolo and Ahmednasir Abdullahi, had countered that Jimmy who suffered a series of ailments including epilepsy and a drug problem drowned in a drunken stupor.
She denied the charge and claims that she had an affair with the American who fled Kenya under mysterious conditions and was freed on a Sh10 million bond.
Jacob was tried in absentia and an arrest warrant issued against him.
Despite her acquittal, Amina is facing a separate charge of bribing a policeman to sabotage the probe, which she also denies. Yesterday Shiraz shed tears of joy after Lady Justice Dorah Chepkwony acquitted her.
"I find that a prima facie case has not been established to warrant the accused person being put on to defend herself and therefore I do enter a verdict of not guilty and acquit the accused person under section 306 (1) Criminal Procedure Code," said Justice Chepkwony.
The judge said a key prosecution witness had uttered contradictory evidence and that the entire state case was based on speculation without evidence.
Justice Chepkwony dismissed the evidence of a night security guard, Emmanuel Wafula who claimed to have seen Amina and Jacob drown Jimmy in the pool. The justice also cast aside the testimony of hotel manager Ashraf Kassim alleged to have been present as Jimmy, Jacob and Amina partied till the early hours of the morning.
"Given the contradictions in the evidence of the prosecution and lack of concrete evidence identifying the accused as the perpetrator of the offences, I find that a prima facie case has not been established to place the accused on her defense," said Justice Chepkwony.
She said Wafula's and Kassim's evidence was at best insufficient and too contradictory to establish guilt and convict.
In his evidence, Wafula, who claimed to have witnessed the murder, said that he did not report to police initially because Amina, allegedly, threatened her. He later claimed his conscience forced him to tell police what he knew.
"Suspicion no matter how strong cannot provide a basis of inferring guilt which must be proved by evidence. The prosecution must prove the case against the accused person beyond reasonable doubt," the judge said.
At trial Monda had told court that Amina and her relatives claimed the insurance policy within days of his death and named themselves administrators of Jimmy's vast estate.