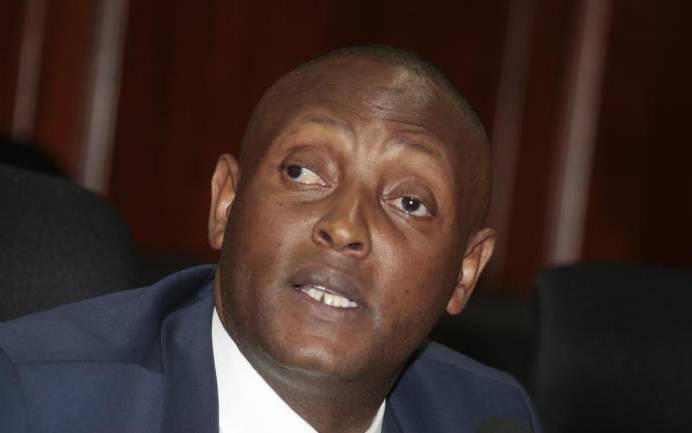 Taita Taveta Governor Granton Samboja has sacked three executives in a major reorganisation of his cabinet.
Mr Samboja (pictured) yesterday fired Frank Mwangemi (Education) and Houghton Mombo (Public Works).
Mr Mombo has been replaced by Gertrude Shuwe from the Lands and Environment docket while Dr Mwangemi's replacement, Daniel Makoko, is a former executive in the Health docket.
Samboja also sacked Chief of Staff and Private Secretary Philemon Mwaisaka, and Economic Adviser Sylvester Mwaliko.
Read More
Both Mr Mwaisaka and Mr Mwaliko served as permanent secretaries in the governments of retired presidents Daniel Moi and Mwai Kibaki.
Samboja released a press statement where he said he had "embarked on a process of reorganising various departments and directorates to improve efficiency and service delivery across key departments".
The shake-up comes one week after the governor survived an impeachment motion. Senate rejected accusations of gross misconduct and abuse of office levelled against him by ward representatives.
Samboja also merged some departments in a move he said was aimed at "improving efficiency and coordination".
Health County Chief Officer Christine Mwakera was also shown the door and replaced by Philomena Kirote who served as Education, Libraries and ICT chief officer.
The governor added three new faces to his team. Cromwell Mwakirungu, a consultant obstetrician/gynecologist, was named as the new Heath executive while Mlawasi Kubo, the County Assembly principal budget officer, will take over as the Finance executive.
Agriculture CEC Davis Mwangoma has been acting as Finance CEC for more than five months.
Former Wundanyi MP Mwandawiro Mghanga, who once served as Samboja's political adviser, was picked to head the Lands, Mining and Housing docket.
The governor also nominated Margaret Righa as the Trade, Tourism, Gender, Culture and Cooperatives executive. Ms Righa served as the Mwatate sub-county administrator in the previous regime.
Other chief officers affected by the reshuffle include Simon Mwachia, who was moved from Trade to Education, while Sylvanus Mwakoma was transferred from the Sports docket to the department of Water, Environment and Sanitation.
Isaac Makange has been moved from the Service Delivery Unit, Industrialisation, Energy and Research department to Youth, Sports, Vocational Training and Social Services docket.
The names of the new nominees have been forwarded to the county assembly for vetting after which they will be approved or rejected.
The reorganisation comes at a time when the MCAs had threatened to impeach five executives for alleged abuse of office, poor performance, incompetence, and engaging in politics at the expense of service delivery.