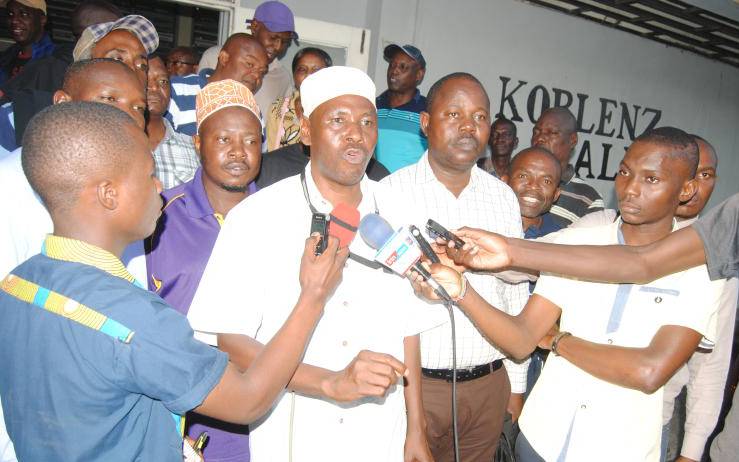 Daggers have been drawn as a faction of the giant Dock Workers Union seeks to oust embattled Secretary General Simon Sang following long-standing leadership wrangles.
The group led by national chairman Mohamed Sheria is set to convene an Annual General Meeting (AGM) later this week, with reports emerging that plans are underway to kick out Mr Sang.
A leadership dispute has dogged the 5,000-member union since 2016.
Ouster scheme
Read More
But Sang has dismissed the ouster scheme as wishful thinking, saying he is the only person mandated to convene an AGM. The secretary-general expressed confidence that the members — who are Kenya Ports Authority (KPA) workers — are solidly behind him.
Speaking yesterday during a preparatory meeting held at the Mbaraki Sport Clubs, Mr Sheria said that time had come for Sang to leave since he had not heeded to the demands set for him.
"He was told 'to shape up or ship out'... two things."
The anti-Sang group wants his deputy Anthony Odero to replace him. Others in the Sheria-led team are national treasurer Joseph Makero, national vice chairman Gunda Kaneno and gender representative Zuhura Idd.
"We will be going flat out to ensure there is sanity in the union. And for this to happen, Sang and his cronies will have their last days in the union come September 26, 2019," Sheria vowed.
A year ago, Sang attempted to replace the rival group but a members' meeting held at KPA Mbaraki Sports Club and Bandari College turned chaotic.
Yesterday, Sang claimed the other union officials were fighting him for opposing the planned privatisation of the port.
"AGMs are only convened by the general secretary. I am aware of the scheme to remove me but that is the wish of the disgruntled officials and workers cannot allow it. There is no justification to warrant my removal," he said.
CBA negotiation
Sang said the wrangles had not affected the core business of the union, adding that he had successfully spearheaded negotiation for the collective bargaining agreement and would embark on the next cycle in November.
But the chairman said Sang had made the dockworkers union officials appear like they were at loggerheads with the Government.
"He has been spreading lies about privatisation of the Port of Mombasa and even going to court to allege that jobs will be lost if this privatisation is effected," said Sheria.
He wondered which jobs Sang was trying to protect when in the first place he misled union members to take part in a strike, which he knew to be illegal, thus earning summary dismissal a few years ago.
"Today as we speak, there are more dismissals of workers by KPA for very trivial reasons. We have faith in the Government and wish to assure President Uhuru Kenyatta of our unflinching support to his administration," he said.
Mr Makero said Sang was not committed to transparency with regards to the union accounts.
"When I joined this leadership position, I insisted on a forensic audit to check our books of accounts. Sang never wanted to support my initiatives hence we do not see eye to eye today," said Makero.