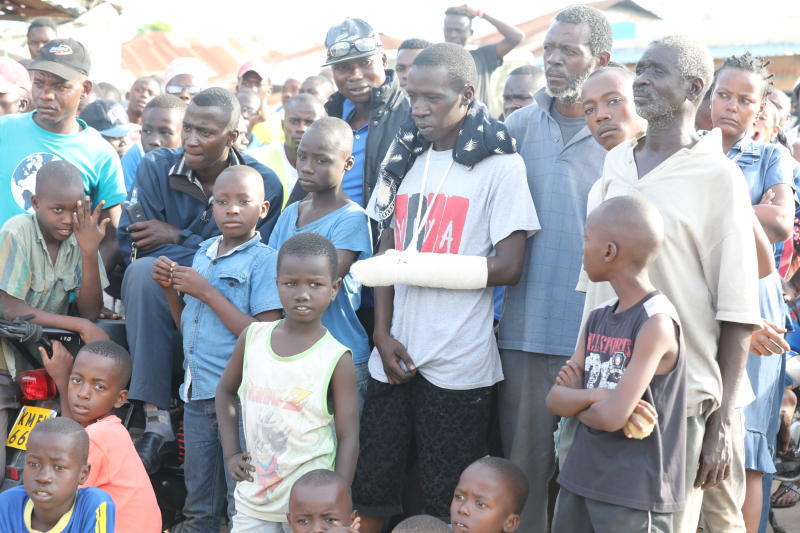 Kenya Defence Forces soldiers indiscriminately beat up residents of Mtongwe in Likoni, Mombasa County, on Tuesday night to revenge the killing of a colleague.
Among those beaten up were three police officers and a Kenya Wildlife Service (KWS) ranger.
The attack came days after the charred body of a soldier, Corporal David Mwangi Githinji, was found in a disused house on Saturday.
Corporal Githinji was killed in the same place where a deputy officer commanding station (OCS) was shot dead.
The area's security committee yesterday held a crisis meeting with residents during which Likoni police boss Elina Wanjala apologised.
Read More
"We apologise to the victims who were assaulted by our soldiers. We have come here as a team to show that we will follow up the matter," she said.
Residents said the soldiers were on a revenge mission.
Assault allegations
"We have received reports from the public that they were assaulted by soldiers from Mtongwe. We have convened a meeting to discuss the matter," Mombasa County Commissioner Evans Achoki told The Standard.
"We have contacted military officials over the assault allegations and they are aware," he added.
The attack began at around 8pm and ended at midnight. Victims say the soldiers descended on the slums in three trucks and split into groups of eight.
They descended on residents while swearing at them. A spot check by The Standard revealed that some victims are now bedridden.
Juma Musa, a KWS officer based in Kwale, is nursing injuries on his back and head after he was hit by metal rods and clubs.
Mr Juma, who was visiting his family in Mombasa, told The Standard at his home in Mtongwe yesterday that he was stopped by about five officers who were in full military regalia at around 8pm.
"They grabbed me from the motorcycle near power area and tore my identification card as others rained kicks and slaps on me," said the father of two.
Hassan Musa Bandari, an Administration Police officer stationed in Limuru, lost two upper front teeth after he was hit with a gun butt.
His father Musa Bandari, a retired chairman for community policing, told The Standard his son was sleeping in his room when 10 armed military officers broke into his house.
He said the officers coerced his son to explain who killed their colleague and blamed police for the soldier's death.
"I heard the soldiers say they would kill the officers if they do not reveal the killers of their colleague," Mr Bandari claimed.
Not far from Bandari's home is 32-year-old Suleiman Juma, a waiter at a local hotel. He was heading home from work at around 9pm when he was stopped by about eight military officers.
He was tackled to the ground and one soldier started beating him with a club. He was also slashed with a machete in the left ear by the rogue soldiers who he said were out to revenge the death of their colleague.
"So you are the one killing our officers," Juma quotes his attackers as saying.
He said he was treated at Likoni District Hospital and he later reported the matter at Inuka Police Station under OB number 49/12/8/2019.
A doctor's report seen by The standard indicates that his left ear lobe had a cut that required stitches.
Monica Achieng, a businesswoman and mother of three, was preparing supper for her children when terror knocked at her door.
She claims she lost consciousness after being hit all over her body with a gun butt.
"When I told them I was not aware of the killing of the soldier they became angry telling me that I was rude. One hit me on my breast," she told The Standard.
A medical report shows that Ms Achieng suffered soft tissue injuries and cuts. She reported the matter at Inuka police station under OB number 48/12/08/19.
Kamau Moses, 40, who runs a hotel near Sokoni Mtongwe, now has difficulty walking after he was assaulted by ten armed men at around 9.30pm.
He said the soldiers wrestled him to the ground and started beating him.
"They left me when I became unconscious and I was taken to hospital," he recalled.
Munira Chengo and his brother Said Mbwana said they were flushed out of their house at around 9:15pm and forced to lie on an open sewer line.
Leg fractures
The soldiers forced them to drink water from the sewer line as they demanded to know who killed their colleague, he said.
Their parents Chengo Masha Said and Salama Mbwana said they were shocked by the incident and called on security officials to investigate the matter and bring the culprits to book.
"Even if one of their own was killed, this is not the way to look for the culprits. They should investigate as they have the machinery to do so," said Masha.
Hamisi Salim, 33, also a victim, is nursing hand and leg fractures after he was beaten with a blunt object.
Residents revealed that they have been living under an unofficial curfew imposed by soldiers. They were enraged that no representative from the base attended last evening's security meeting.
Joseph Lenkara, one of the security officials who attended the meeting, told residents he had raised the matter with officials at the naval base who pledged to pursue the matter.
He asked all those who were injured to report at Inuka Police Station and urged the Directorate of Criminal Investigations to speed up investigations.
Efforts to get a comment from the military were fruitless.
Department of Defence (DOD) Spokesman Bogita Ongeri declined to comment on the matter and referred us to KDF Spokesman Colonel Paul Njuguna, who could not be reached on phone.