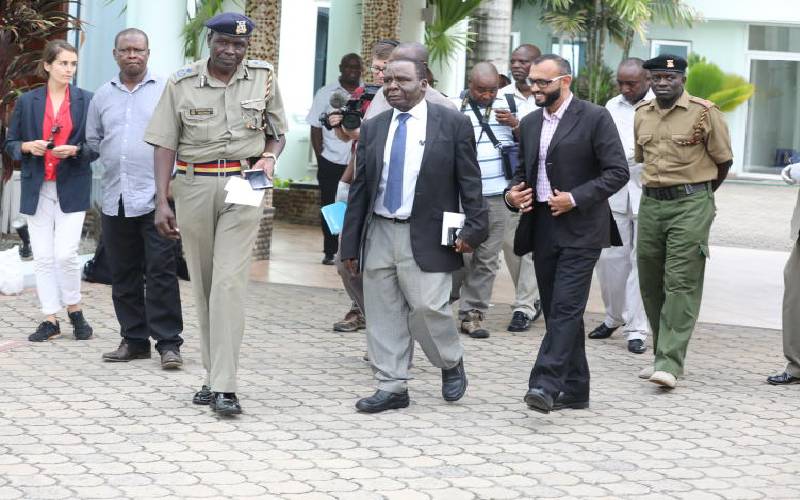 Police yesterday continued their search at the home of businessman Ali Punjani in Nyali, Mombasa, as part of a narcotics investigation.
But after turning the house upside down, they did not find anything substantial.
The police announced that they had only found Sh57,000, one roll of bhang and three foreigners, including a Nepalese woman.
The money included Sh3,000 that was in denominations of Sh20 coins.
"We will move to another of the businessman's houses," Coast Regional Police coordinator Johnstone Opara said.
Read More
Five kilometres away, Bofu MCA Ahmed Salama Omar who had been arrested as part of the probe was released without charges after the State failed to link him to the narcotics trade.
In Lamu, Kizingitini police boss Shadrack Mumo who was arrested on Monday in connection with the release of a suspect was not arraigned in court. Police said they had constituted an internal tribunal to discipline him.
"The findings from the tribunal will determine whether Mr Mumo will be charged in court," said Lamu County Police Commander Perminus Kioi, adding that the tribunal will be conducted in camera.
On Monday, Mr Ipara declared Mr Punjani's house a crime scene and ordered the tycoon to present himself to the nearest police station.
And yesterday, Ipara said three suspects, two Napalese and an Indian were arrested because "they were found in the house".
"According to investigations, (Punjani) is directly or indirectly involved or has people he uses in the drug business," he said.
The two Nepalese were identified as Karki Shushmija and 30-year-old Shiva Prasad Bashyal. The third suspect was identified as Ranoj Ram, 28.
Mr Shiva told police that he came into the country in May this year. Ipara questioned how the three suspects gained entry into the said house yet on Monday there were no keys to open the house.
"How did the three access the house? We were told the keys were with someone in Kwale," Ipara asked adding that the two will be detained because they lied to the police.
Punjani's lawyer, Jeff Asige, who was present during the search, said he could not explain how the three occupants accessed the house.
Officers accompanied by sniffer dogs first searched for evidence on flower beds before they descended on three high-end cars parked outside the house.
On Monday, police said they had received intelligence reports linking Punjani to narcotics from 17 suspects, including the MCA arrested in Likoni.
Punjani's name came up during an ongoing criminal trial of suspected Kenyan drug kingpins in New York, US.