Incurable disease sets Kilifi family to fate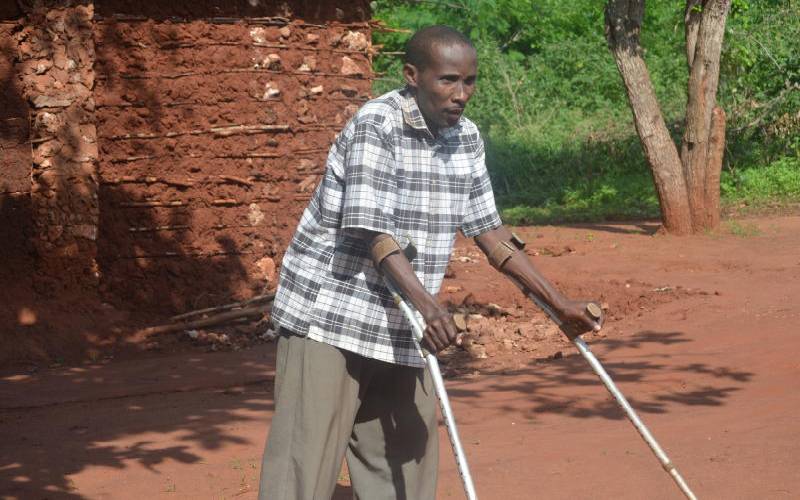 A family in Bundacho village in Chonyi sub-county is suffering a neurological condition that renders them incapable of seeing in bright light during the day.
They also cannot balance and have problems in moving. This condition began with the father in 2004 and worsened in 2013 before taking on the children.
As their health degenerated his marriage collapsed his wife sought refuge in prayer before leaving.
The family of Chapa Kiti Mbura a former worker at the Kenya Airports Authority (KAA) is currently living on the mercies of well wishers. Mbura and four of his children developed eye problems which make them totally blind during the day but can see at night.
The blindness is accompanied by loss of body balance and speech. All those affected look emaciated with their skin turning pale. Worse, they have visited hospitals to no avail.
Professor Charles Newton, a neurologist at the Kenya Medical Research Institute (Kemri) writes in a report dated July 5 2017 that some of the family suffer from a hereditary ailment that causes progressive difficulties in walking and doing every day activity.
"The father and his two daughters have spinal-cerebellar atasia type 1 which is inherited as an autosomal dorminant condition causing progressive difficulties in walking and doing every day activity."
It went on: "As expected the condition started at a younger age in the two daughters and they are much more severely affected than their father and now cannot walk. There is no cure for this condition...they need much support... and devices to support their mobility and other functions."
Mbura says he quit his job because of the condition.
"I started seeing darkness. I could not identify people but their figure. When I tried to stand up I ended up staggering like a drunkard," said Mbura. "My mother and sister died in 2008 and 2009 respectively with similar condition we are going through."
Mbura reveals that there only hope is in God and he goes to different places seeking spiritual healing after he ran out of money while seeking formal treatment for his family and himself.
"We have not lost hope until we die,'' said the pensioner who says his pension is hardly enough to sustain them.
His sick children, a son and three daughters were born healthy but the condition forced them out of school.
"My son Anthony Kiti was a third year pursuing economics at the University of Nairobi. I took Caroline to Kibarani special school in Kilifi where she sat her KCPE but the condition worsened before she joined High School," he said.
"Lidya dropped out in class seven from Mutundani primary school. It is my prayer they return to school."
The two girls cannot support themselves and this has forced their elderly aunt to travel every day for more than five kilometres to wash them and change their diapers.
Mbura says his wife left with two of their healthy children. She could not bear the sight of suffering in the home.
"She told me that she was going to pray for our condition in one of the churches in Mombasa. Later on she said that she would only think of returning after God answers her prayers. In short she has abandoned us," he said.
According to neurologist experts Multiple Sclerosis is a degenerative nerves disease which cause progressive difficulties in body balance, vision, hearing and speech.
The experts further reveals that the condition is progressive in nature and affects most of the muscle of the body hence halts a person from performing daily activities.
Anthony Kiti, 23, said he started developing the condition in 2008 when he was in form two at Mariakani secondary school where he scored B+ in KCSE but his health deteriorated when he joined the University.
"At the UoN in 2016, I was not able to write or see anything on the black board, sometimes I could pay someone to write notes for me. I was forced to discontinue my studies when I fell down while climbing the stairs," he said.
He had also started crawling and was dependent on colleagues for movement.
Despite the condition, Kiti is the only one who cooks and performs other house chore since he is a little bit stable, with hope that he will be fine and resume his studies.
"I can see well in a dark place and that is what I used to do at school. But for now, I have accepted my condition until I get better. We don't have money but we pray all the time," he said.
Peris Chapa his sister is a mother of two, she got married when she could not return to school.
"It started in 2007, my mother used to say it was because I spent a lot of time reading white papers. It worsened in 2009 and I left school. Then again I did not like to see my father and siblings suffer, I decided to get married," she said.
She could later leave her husband in Madunguni Village in the outskirt of Malindi Town to return to her family in Bundacho.
"My husband always comes to see and pleads with me to go back with him but I feel I will be a burden to the family since there is nothing I can do," she said with a stoic look in face.
Orders in ACK theft probe extended
KCB and Barclays Bank are yet to comply with its earlier order to provide investigators with withdrawal slips and other account details.