Two charged over explosion in Likoni house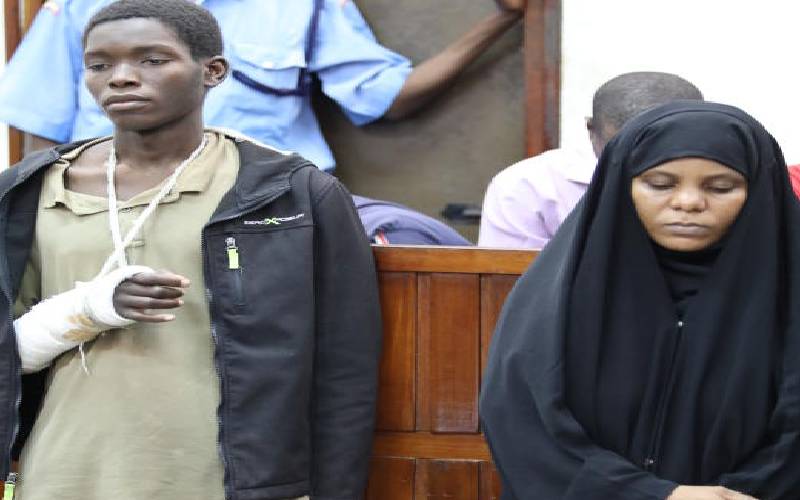 Two people have been charged in a Mombasa court with conspiracy to commit acts of terrorism.
The charges stem from an explosion that occurred inside a house in Likoni, Mombasa, on June 10.
Swaleh Juma Salim appeared in court with a bandaged arm suspected to have been harmed when an Improvised Explosive Device (IED) he was trying to assemble exploded.
The second accused, Leila Omar Rashid, is suspected of trying to sabotage access to the scene of the explosion.
The two denied the charges on Monday before Mombasa Senior Resident Magistrate Martin Rabera.
Swaleh denied a second charge of being in possession of an IED, while Leila denied interfering with materials relevant to an investigation by cleaning and dusting off explosive materials at her residence after the explosion occurred.
The two first appeared in court on June 11, with two other suspects; Abdulhamid Islam Shahad and Zamda Omar Mwashima, and were detained for 10 days pending further investigation.
Prosecution went on to charge Leila and Swaleh and withdrew charges against the other two suspects.
Yesterday, prosecution announced that it intended to file an application opposing the release of the two accused persons on bond.
"We will be applying to have the two accused persons detained and we will oppose their release on bond due to the ongoing investigations," said Eric Masila from the office of the Director of Public Prosecutions.
However, the accused persons, through their lawyer Jared Magolo, asked to be granted bond, insisting that they had been held for a long time and that police had already charged them.
Mr Magolo told the court the accused persons had been in the hands of the Anti-Terror Police Unit since their arrest and that the fact that they had been charged indicated that police had completed investigations.
"The police have been with the suspects for the last 13 days despite being given 10 days. I don't see the reason for police to continue holding the suspects," said Magolo.
The court directed that the bond application be handled by another magistrate, Ruth Amwayi, and Swaleh taken to hospital before being presented in court.