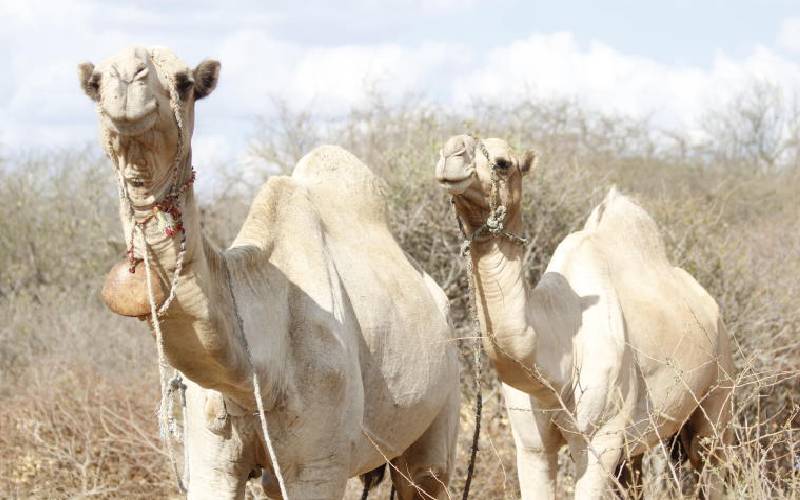 Tension remained high in parts of the county following last week's killing of a farmer by illegal herders. The farmer was killed at Teri B Group Ranch in Sagala on Thursday last week by herders who have invaded local farms in search of water and pasture. The herders are said to have attacked the peasant farmer, identified as Alex Mlambo, as he tried to prevent them from invading his farm.
SEE ALSO: Governors seek to resolve boundary dispute
Residents later slaughtered over 20 camels, valued at over Sh3 million, belonging to the herders to avenge the killing of the 35-year-old who was stabbed to death. Most of the animals were slashed with machetes. Reports indicated that some residents have fled their homes after the herders threatened retaliatory attacks. "Many people have left their homes after the illegal grazers threatened to return and carry out attacks after their camels were hacked to death by residents after one of their own was killed," Ms Maria Mwaka, a resident, said. She added: "Ideally, residents would be spending days and nights at the home of Mlambo, in support of his family as the burial preparations go on. However, that is not happening as we fear the herders may ambush us."
SEE ALSO: Samboja given two weeks to settle rent
The latest incident captures the magnitude of the decades-long conflict between farmers and herders, who have been invading farms to fatten their animals before selling or exporting them. At least five suspects have been arrested in connection with the incident and arraigned before Voi Laws Courts. They are facing several counts, including murder. And yesterday, local leaders addressed a public baraza where they called for calm, but accused the national government of failing to flush out illegal grazers from the region. The leaders, who included governor Granton Samboja, Senator Johnes Mwaruma, MPs Jones Mlolwa (Voi), Andrew Mwadime (Mwatate) and Women Representative Lydia Haika appealed to locals to maintain law and order and urged the police to end insecurity in the region. Others who addressed residents during the meeting at Kirumbi village were Voi Deputy County Commissioner Joseph Lewa and Sagala MCA Godwin Kilele.
SEE ALSO: Governor Samboja, MCAs truce stops CECs removal
Some of the leaders claimed the herders are enjoying protection from the national government. They accused the security apparatus of doing little to protect farmers from the illegal grazers who they said have driven thousands of their animals into people's settlements in search of water and pasture. Mwadime warned residents may be forced to take the law into their own hands if the Government fails to flush out illegal herders. "Illegal herders have become a thorn in our flesh. The national government should either remove them or residents will be forced to take the law into their hands to protect their lives and property," said Mwadime. Mlowa said the Ministry of Interior has been unable to deal with the menace due to lack of legislation to guide removal of illegal grazers. He said the county assembly is also yet to pass legislation to regulate movement and management of livestock in the region. "I have talked to the Voi sub-county security committee and they have told me their hands are tied because there are no laws to restrict the grazers. As soon as the county assembly passes the laws and related policies, proper action will be taken against the illegal grazers immediately," said the opposition legislator. The county assembly was yet to pass the Ranching and Grazing Management Policy meant to regulate movement of livestock and introduce tough penalties, including jail terms against those found illegally grazing in the region. Samboja called for calm and said his administration will take care of the burial expenses of the farmer. Mwaruma MCA Jason Tuja demanded immediate removal of the herders, most of whom come from North Eastern region.