Qatar Charity holds iftar in Mombasa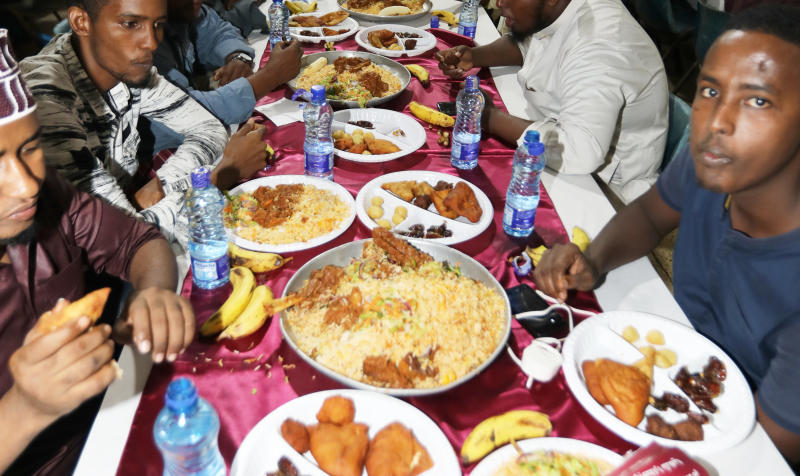 Qatar Charity (QC) extended the hand of Ramadhan when they hosted iftar for over 350 Mombasa residents at the Mombasa Islamic Centre on Monday.
Among those who atttended the event included Mombasa Senator Mohamed Faki and several local administration officials.
A representative of QC, Mr Mohamed Abdi said that the organisation which has also been sponsoring orphans in Keny was privileged to extend a hand of friendship to fasting Muslims during the Holy month of Ramadhan.
'' Qatar Charity is this year expanding its hand of support to cover Tana River and Mombasa. There are already ongoing activities in Nairobi, North Eastern region and Turkana where hundreds of orphans are beneffting from sponsorship packages on offer,'' he said.
Mohamed Shamsi, one of those invited for the iftar said that it was fullfilling to see QC sponsor iftar for Muslim ummah.
'' Not all can afford decent iftar meals. This is a welcome move,'' Shamsi said.
It is worth mentioning that Qatar Charity attaches special attention to orphans since its establishment as part of its social welfare programmes.
On December 31, 2013, the charity launched its "Rofaqa" initiative to provide the integrated care to the largest possible number of the orphaned children around the world.
To date, the initiative managed to sponsor more than 153,000 orphans in Asia, Africa and Europe.
Meanwhile, Muslims have been urged to be united if they are to make social economic progress.
Led by the Supreme Council of Kenya Muslims (Supkem) coast region chairman Sheikh Muhdhar Khitamy said unity was necessary for the development of the country and asked people to embrace peace e and unity in the interest of development.
He appealed for Muslims to use the spirit of the fasting month of Ramadhan to love one another through mutual cooperation and coexistence.
The sentiments of the Muslim leaders were echoed by Mombasa senator Mohamed Faki said leaders should preach unity at all times.
Faki said differences should not be allowed to impede the country's development programmes saying there is need for unity of purpose.
Prominent businessman Mohamed Jaffer urged the Muslim community to stand united and avoid unnecessary divisions.
He said Muslims must stick to the commands of the Islamic religion for them to prosper in all spheres of life.