Pathologist says British aristocrat Alexander Monson died from head swelling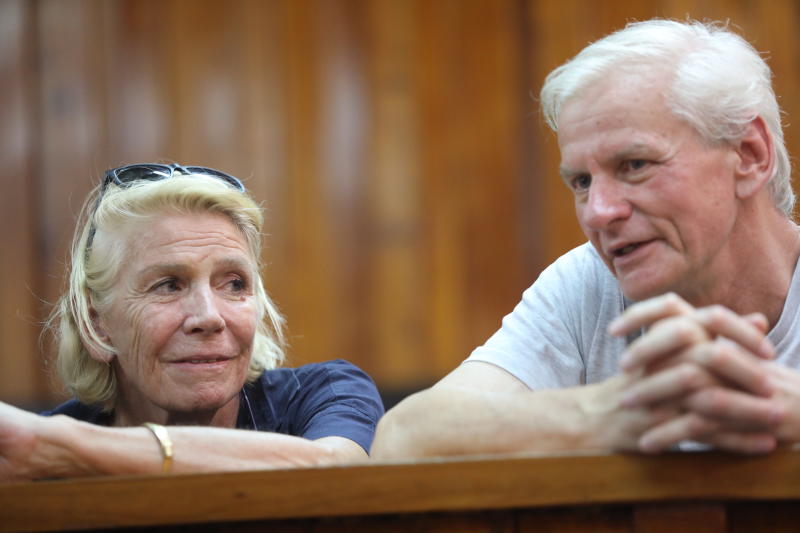 A British aristocrat who died in custody was struck on the head with a blunt object, a court was told on Tuesday.
Pathologist Titus Nguli told High Court Judge Eric Ogola that Alexander Monson suffered head trauma, which caused swelling inside the brain.
The doctor said this caused a deadly increase in pressure inside the skull.
The blow to the left side of the back of the head also injured a part of the brain that regulates breathing, thus disrupting the flow of oxygen to Monson's heart.
"During the autopsy, I found that the body had enough oxygen but it was abruptly cut following obstruction of the lungs, which supply oxygen to the heart for circulation," said Dr Nguli.
The pathologist was testifying in the trial of Sergeant Naftali Chege, Rtd Chief Inspector Charles Munyiri, Baraka Buluma and John Pamba, who have denied murdering Alexander on May 19, 2012.
Monson, a son to Lord Nicholas Monson, died at Palm Beach Hospital in Mombasa after he was arrested and detained at the Diani Police Station for allegedly smoking bhang.
Drug overdose
Lord Monson disputed police reports that Alexander had died from a drug overdose. He fought for an inquest into his 28-year-old son's death.
The inquest recommended that Naftali, Munyiri, Buluma and Pamba be prosecuted.
Nguli told Justice Ogola the brain injury that caused Alexander's death was caused by a blunt object.
"That is why I cannot rule out a gun butt or any other blunt object because it was not a sharp object," Nguli said.
The pathologist also ruled out the possibility of Alexander having fallen down while under the influence of a drug, saying the body had no injuries to the forehead.
The doctor told the court Alexander had bruises on both hands, which showed that he was shielding himself from an attack before his death.
Nguli said although Alexander's scrotum was swollen and could have led to his death, the injury had been inflicted using violent force when he was still alive.
Former in-charge at the police station, Superintendent Paul Cheruyiot, told the court he saw Alexander in the tourist police office on the day he died.
"When I was leaving the police station at around 3am, I saw a white man with Chief Inspector Munyiri in the tourist office. I presumed he was Monson because I had been informed of the arrest of a white man," said Mr Cheruiyot.