'Cops took me to cemetery and threw me in fire'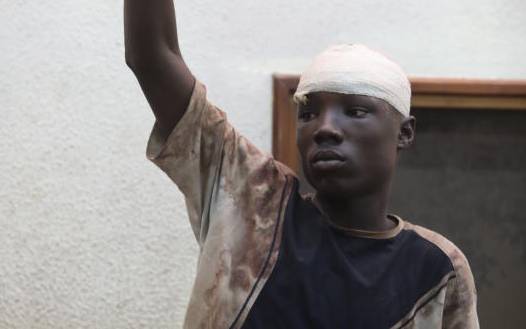 A police boss on Friday denied claims that his officers had assaulted a suspect charged with robbery with violence.
Mombasa Urban OCPD Eliud Monari had been summoned by Senior Principal Magistrate Henry Nyakweba after Ali Ibrahim claimed that he was beaten by officers from the Makupa Police Station.
Mr Monari told the court that his officers had rescued Ibrahim from an angry mob after he was caught allegedly trying to steal a mobile phone and a wrist watch from Abdallah Mbarak Mohamed.
The OCPD said that when the OCS Makupa Police Station realised Ibrahim had been beaten and sustained injuries, he arranged for the suspect to be taken to the hospital for treatment before he was presented in court on March 5.
"The suspect was treated at the Coast General Hospital and taken back to the station at 14:57 hours. The allegations that he was not taken to hospital are lies. I want to tell the court that the officers did not beat the suspect but rescued him from an angry mob," said Monari.
But the magistrate questioned why the officers did not arrest the people found beating the suspect and charge them in court.
Ibrahim (pictured) then said that Monari was not being honest and asked the court to hear his side of the story.
The suspect testified that on the day of his arrest, police officers handcuffed him and took him to Makaburini area in Manyimbo where they forced him to lie on his belly, a command he disobeyed.
He told the court that one of the officers took a block of stone and hit him on the head while another officer hit him on the legs.
"Another officer took his rungu and hit my handcuffed hands and the handcuffs were almost damaged. They said they would ensure that I was dead," said Ibrahim, who is currently in custody.
He further told the court that the officers lit a fire and forced him to jump into the flames, adding that relatives who came to his rescue were chased away by the officers.
"Instead of taking me to the hospital because I was bleeding, the officers bundled me into their vehicle and just drove around from one place to another. They later booked me at Makupa Police Station.
Ibrahim claimed that when the Makupa OCS saw him with the officers, he asked them why they had not finished him at the scene.
He told the court that his life would be in danger if he was taken back to Makupa Police Station pending mention of the case.
The suspect was remanded at Central Police Station and Monari promised to investigate his claims and present a report in court on March 13.