Forests not helping us, Taita Taveta residents lament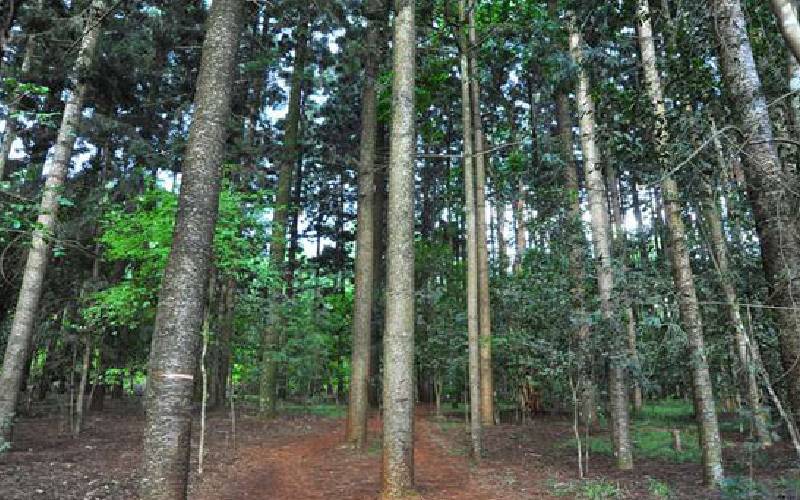 Several researches conducted in Taita-Taveta Hills forest have not been benefiting the local community.
Residents living around forests and hills yesterday told scientists from the Kenya Forestry Research Institute (Kefri) and senior Kenya Forest Service officials that a lot of research had been carried out but they were not benefiting from them.
"Our forest is rich flora and fauna but such resources are being exploited under the guise of research. Those carrying out research have been extracting medicinal plants and mineral deposits among other available important resources while residents are living in poverty," claimed Ms Wangio Amina of Teri village in Chawia forest.
Taita Hills forests are key water catchment for human needs and well-being of the wildlife in the Tsavo ecosystem Area not forgetting the support to agricultural development.
It is also the home to the endemic plant and wildlife species like Taita White Eye and Taita Appalies. It is also one of the biodiversity supper hotspots for endemic wildlife and plant species in the World.
Kefri Taita-Taveta Research Centre senior Scientist Chemuku Wekesa said research they had been conducting in local forests had been benefiting locals contrary to claims from the residents.
He said owing to the research, his organization has initiated activities aimed at enhancing rehabilitation in the highly degraded areas and restricting illegal activities in the dilapidated forests and hills that serves as water catchment areas and wildlife habitat dispersal areas.
Addressing local farmers at Mazoloa primary school in Mwatate Sub County, the Landscape Ecologist disclosed that Kefri has put 20 hectares of land in Taita hills under rehabilitation.
He said they were currently building capacity to locals and schools to participate in the ongoing concerted efforts to conserve environment to save the highly degraded biodiversity hotspots that is threatened by the high rate of deforestation and biodiversity loss.
"We are raising indigenous seedlings and creating awareness on agro-forestry to act as a buffer zone to mitigate the impact created by the edge not to be exposed to lose biodiversity. We have also identified plots for research," said Dr Wekesa.
At the same time the scientist said Kefri was developing some bio-enterprises the community can rely on to transform their lives and improve their income.
"We have recommended key indigenous plant species to be planted in Taita hills forests for land regeneration purposes," said Dr Wekesa.
This come as Taita hills forest has been reporting massive biodiversity and ecological loss at alarming rate.
Wekesa said the forest cover has been changing over time and thus losing its biodiversity and ecological status in the last 40 years due to uncontrolled illegal activities.
"The forest cover in the five major fragments is changing over time. In the last 40 years, Taita hills forest has lost about 23.2 percent of its cover translating to 0.5 percent every year," he disclosed.
He said the five fragments among them Chawia, Ngangao, Mwambirwa, Fururu and Mbololo forests rich in flora and fauna had so far lost at least 233 hectares between 1973 and now.
One of the scientists in charge of dissemination Florence Mwanziu said they have been conducting field days for the farmers living adjacent to forests to sensitize them on the need to participate in conservation and management of forests.
The dissemination officer said the aim of the field days are aimed at rehabilitation the highly degraded Taita Hills forest.
"The rate of deforestation stands at 5 percent and there is a lot of soil erosion and fertility degradation in the forest and products," noted Dr Wekesa.
"There is also a participatory action research plan to identify conservation problems in developing solutions to the existing problems and build the capacity of the locals as a way to minimize biodiversity loss," he stated.
Currently the forest cover in the region stands at only 4 per cent, which is far much below the 10 percent threshold.
Wekesa said the forests and hills serves as the main water tower and the continued destruction if not checked would impact negatively on the socio-economic status of the local community and tourism activities.
"We are planting trees in Taita hills to sustainable restore the dilapidated forest cover and flow of dying rivers in the region," he said.
"We intend to ensure that the degraded hills that are rich in biodiversity conservation are fully rehabilitated to improve its ecological status," said Wekesa.
Wekesa and Mwanziu further said every effort must be done to protect the forests which serve as habitats for other endangered wildlife and bird species.