Mombasa County criticised over Kibarani site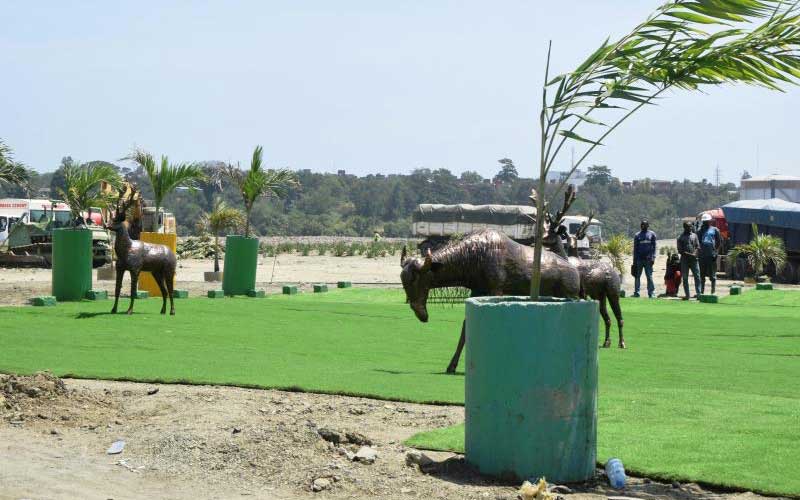 The county government has defended its decision to use artificial turf in efforts to reclaim the Kibarani seafront dumpsite.
The ground, which was closed last year after being in operation for 50 years, has also been beautified with the statues of different species of animals.
County Communications Director Richard Chacha said the artificial grass carpet was installed temporarily while preparations were being made to plant trees.
"There is no cause for alarm. Work is still going on and a lot of trees will be planted. The artificial grass will be removed later as we continue to regenerate the dumpsite," said Mr Chacha.
Natural grass
The project's critics had said they wanted the county to plant natural grass and trees, and erect the statues of fish that are indigenous to the coastal region "to blend well with the ocean".
Hotelier Mohamed Hersi ignited debate this week when he claimed what was being done at Kibarani was "zero work when it comes to minding the environment". He criticised the use of artificial grass and putting up of sculptures of wildebeests and reindeer that were not indigenous to Kibarani.
"What would a reindeer that is not even indigenous to Africa be doing at Kibarani? Please @MombasaCountyKe simplicity is key in life. You started very well. Dumpsite closed, trees planted and you watered them. Growing really well. Turf and sculptures is a No," Mr Hersi tweeted.
Fertile soil
Benson Wemali, an environmental inspector, also claimed those rehabilitating Kibarani were interfering with the soil. He claimed the dumpsite provided fertile soil to grow natural grass and flowers.
Mr Chacha said the county government had partnered with Mombasa Cement and Kenya Ports Authority, among other stakeholders, to transform the dumpsite.
One of the people behind the Kibarani reclamation project, who asked not to be named, said that no trees or plants could grow on the dumpsite at the moment because it was still a toxic waste land.
Chacha said they had covered some of exposed waste with nets to stop it from pouring into the sea, adding that work at the site would take at least two years and cost nearly Sh500 million.
"We have tried to plant grass, sunflowers and several other plants but they cannot grow well because the soil is still toxic from the waste. We are going to plant resistant plants like sisal as we continue to rehabilitate the site," he said.
Heavy machinery
He said they were using heavy machinery to excavate the waste, which was mostly from hotels and light industries, adding that the waste tended to emit a lot of heat when it had been underground for some time.
He explained that the artificial turf had been installed to complement the wildlife sculptures, which blended with nearby palm trees and attracted local and international visitors.
"Many residents of Mombasa who cannot afford to visit national parks can now enjoy the wildlife sculptures at Kibarani. They always see fish so there was no point of erecting fish statues," he said.