Kilifi South MP gives the elderly special New Year's treatment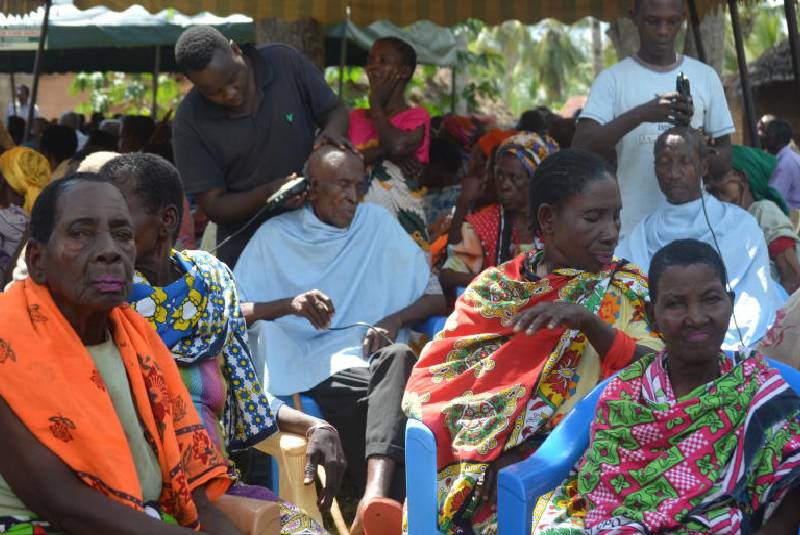 Elderly residents got free medical checkups and treatment sponsored by a local MP.
Kilifi South MP Ken Chonga held the clinic at his home in Chonyi sub-county, where people over the age of 65 benefited.
Mr Chonga invited barbers and salonists who gave the senior citizens makeovers and haircuts as a new year treat.
The old men had their grey hairs and beards shaved, while the women had their hair dyed and plaited. Some got to apply makeup for the first time in their lives.
Some of them also had their nails done.
A luncheon was later held, after which the elders were each given Sh200.
Speaking during the event, Chonga said most elderly people were neglected by their families.
Witchcraft allegations
He claimed that several elders had been killed over allegations of witchcraft.
"I want to appreciate elderly people for the life they have lived on this earth. Many of them have been productive in one way or the other. But we always forget the important roles they play in the community," said Chonga.
He urged families to be protective of their aged relatives, who are often attacked especially when there are disputes concerning land.
He said the county administration had an important role to play in protecting the old from the vagaries of life, for example, by providing them with free medical covers.
Chonga claimed that last year alone, eight elderly people were murdered in the constituency due to land-related disputes.
Gona Mrima, 78, who is from Lutsangani village, said she had never witnessed such a good gesture from any other leader.
"I have lived for years and no other leader has ever invited me to his home for lunch. Not even for a meeting to say hello," said Mrima.
"We are always called by politicians, but only when they are asking for our votes. Today I have had an opportunity to meet an old friend whom I had not met for long," added Mrima.