Coast private schools top in KCPE results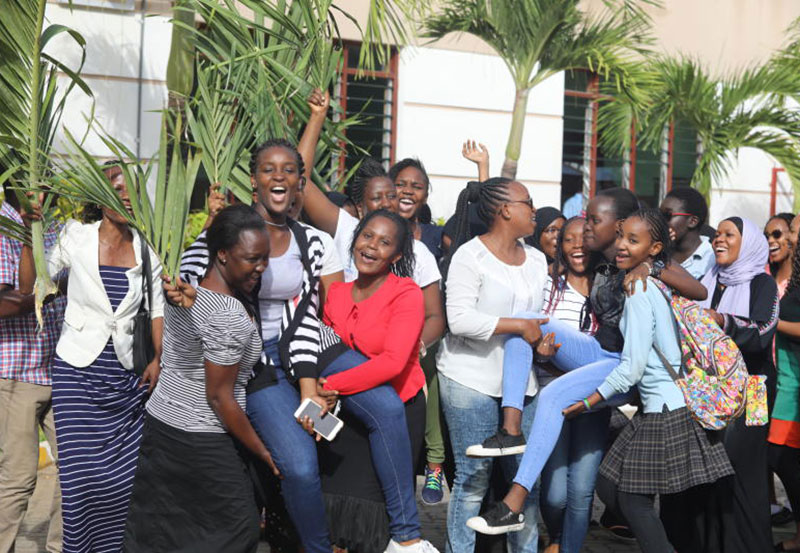 Private schools in the Coast region dominated this year's KCPE results, producing the majority of the candidates who scored 400 marks and above.
Mekaela Likunda School, St Kevin Nyali, Leads Group of Schools, Busy Bee School, Coast High Vision Chaani, Mwatate Junior Preparatory, St Kevin Likoni, Coast Star Academy and Aga Khan Primary registered impressive results, outshining their public counterparts.
In the private schools category, some of the best results were from Mombasa. They included St Kevin (Nyali), Light Academy, Busy Bee, Fairfield Academy (Kiembeni), Sheikh Zayed Children's School, Leads School (Jomvu) and Aga Khan Primary School of Mombasa.
Ganjoni and Nyali primary schools from Mombasa and Lushangonyi from Mwatate in Taita Taveta were some of the few public schools that had candidates who scored 400 marks and above.
From the results collated from some schools and parents yesterday, Mvurya Hassan Wanini from Mekaela Likunda School in Kwale County had the highest marks at 440, his schoolmates Boga Twalib Mwasiwa had 432 marks and Mwapeku J. Bwagizo 422 marks.
Ogembo Achieng Faith led at Ganjoni Primary School with 426 marks followed by Madimwa James Wanyama with 422 marks.
Others from Ganjoni who scored 400 marks and above were Ochola Joyce Atieno, Munga Julius Dzame, Ali Musa Mohammed, Kwame Felicia Wawuda, Odhiambo Akinyi Rachael and Mutethya Precious Pauline.
Mombasa's Nyali Primary School, a public institution, posted good results with Rama Paul scoring 430 marks followed by Farhat Lone with 427 marks, Safiya Ameer 425 marks and Lewis Ndegwa 424 marks.
Evans Musyoka from Coast High Vision Chaani led the pack, scoring 430 marks.
Busy Bee School in Mombasa had five candidates who scored 400 marks and above, as did Mwatate Junior Preparatory
Audry Chebet Bii and Agness Tumaini Badhili from Aga Khan Primary in Mombasa and Abdulaziz Ahmed of St Kevin Nyali scored 428 marks.
Rehema Neng'we of Qubaa Muslim School was among the best performers with 426 marks.
Charles Omolo from St Kevin Nyali scored 425 marks followed by Eclasisa Gitau with 421 marks.
Remarkable scores were also recorded at St Kevin Elite - Nyali, where Abdulaziz Ahmed scored 428 marks, and Light Academy, where Laura Nyadzuwa Tungu scored 428 marks.
New Hope Children's School, located in an informal settlement where most pupils are orphans, performed well and its best candidate, Sammy Mdzomba Mdachi, got 425 marks.
Fifteen of 63 candidates from Nyali's St Kevin scored 400 marks and above.
From the provisional results compiled by The Standard, Hawa Mjomba of Leads and Laura Nyadzuwa Tungu of Light Academy, Audrey Chebet Bii and Agnes Tumaini Badhili of Aga Khan Primary, all scored 428 marks, among the best girls in the Coast region.
[Reports by Ishaq Jumbe, Philip Mwakio, Mkamburi Mwawasi and Tobias Chanji]