Eight-months-old baby stolen from Mshomoroni home by unknown people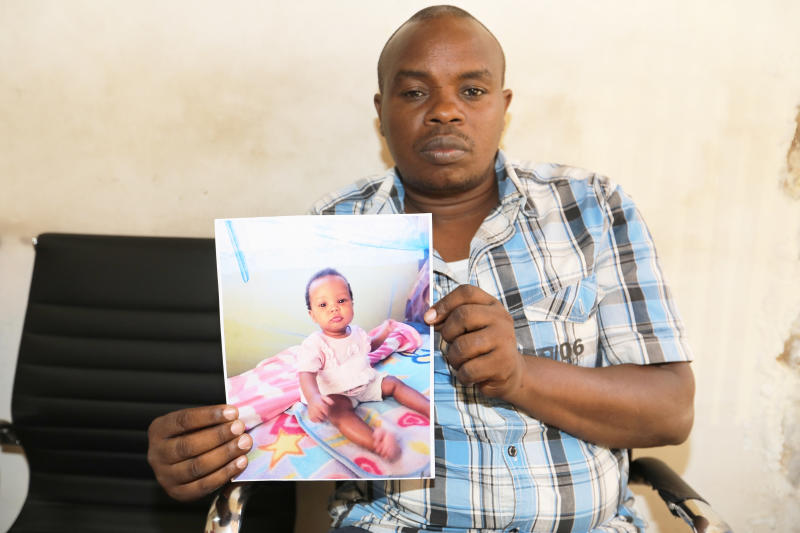 A family in Mombasa is in distress after an infant was stolen in Mshomoroni Falcon area on November 8
Peter Kinuthia told The Standard yesterday that eight-month-old Consolata Wambui disappeared in the afternoon when she was left alone briefly by her mother.
"My wife came home to breastfeed the baby at lunch time. She then left for her business premises, which are not far from home, only to come in the evening to find reports that the baby had been stolen," said Mr Kinuthia.
Kinuthia, who has two other children aged 11 and four years, said he had gone to attend the burial of his friend's mother when he got the devastating news.
He added that his wife had sent his niece, who was taking care of the child, to a nearby market.
"My wife left the baby knowing that my niece would not take long at the market and went back to her shop. It's unfortunate that someone took advantage of the situation," Kinuthia said.
He described his daughter as a calm and composed baby, adding that this could be the reason she did not cry when she was taken.
"Since my arrival from Gatanga, I have been looking for my baby. The matter has also been reported at the Nyali Police Station," he said.
Quiet baby
His wife, Joyce Kairo, said she thought the baby was at the neighbours' because she was always quiet.
"I was so shaken after it dawned on me that my baby was truly missing that I almost fainted," she said.
Ms Kairo added she could not believe that her baby could disappear from her house. "These are stories that I watch on television and I never imagined it would happen to me."
Since Wambui's disappearance, friends and family members have been sharing pictures of the baby on social media sites.
Mombasa police boss Johnstone Ipara said information had been circulated to all stations in an attempt to find the baby.
He added that a case file had been opened and would be forwarded to the Office of the Director of Public Prosecutions for further directions.
Mr Ipara asked parents to be extra vigilant and keep a close eye on their children this long holiday.
"Parents should leave their children with responsible members of the family to avoid such misfortunes," said Ipara.