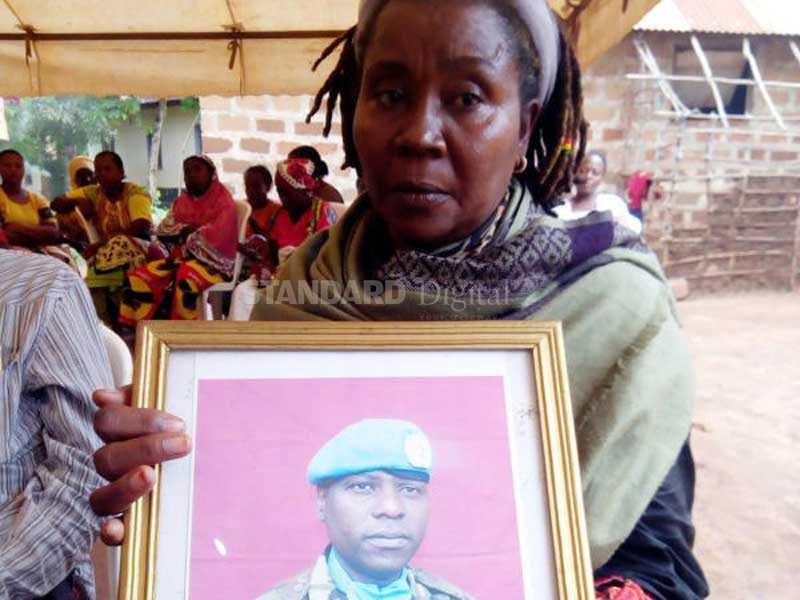 A family in Kambe, Kilifi, has identified one of the Kenyan soldiers killed in an attack by Al Shabaab insurgents in Dobley town of Somalia on Sunday.
The family said Henry Matano, 51, was among the 12 soldiers killed in a landmine explosion. The soldiers based at Nyali Barracks in Mombasa were returning to Kenya after completing a duty in Somalia.
Rachel Hare, Matano's widow, said she last spoke with her husband on Saturday evening although they could not communicate well due to poor mobile phone network connection.
"It is God's plan, but my worry is how will I be able to educate our five children," said Ms Hare, who described her husband as a loving and caring man who had big plans for his five children.
She said her husband joined the military in 1989 and had served diligently for the last 29 years.
Matano's sister Merita Kenga described her brother as the "breadwinner and a charitable" man who assisted many families.
Matano's close friend Kombo Mwasudi said he received a phone call from Nyali Barracks informing him about the death.
"I always went to Nyali Barracks with Matano, and when the incident occurred, I received a phone call from other soldiers who informed me about the attack," said Mwasudi.
Yesterday sources also indicated that two others families in Mombasa, including one from Mwakirunge in Kisauni, claimed their kin were killed in the explosion that has already been claimed by Al Shabaab.
"He was in Isiolo for so many years before he was transferred to Nyali Baracks five years ago. He was ready to serve and whenever we spoke he always told me to pray for him," said Mwasudi, who is also Matano's family spokesman.
In late 2014, five militants believed to be sympathisers of Al Shabaab were killed when they tried to run down Nyali Barracks. One soldier was also killed in the botched raid.