Governor Joho's long overseas trips sparks anxiety in Mombasa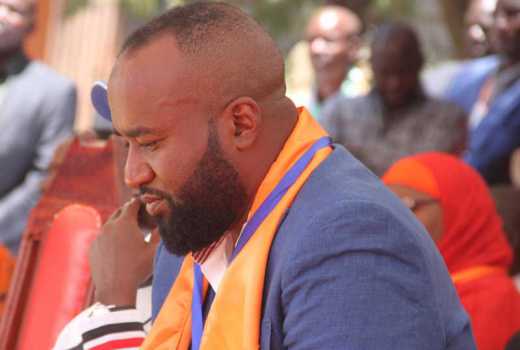 Mombasa Governor Ali Hassan Joho's prolonged absence has sparked questions over his foreign trips.
At the national level, the ODM deputy leader's absence has hardly been felt as he appraises social media users on his activities in Europe and Asia as well as comments on political events in Kenya.
But in Mombasa County, the nerve of his administration and political activity, the murmurs are growing loud each passing day.
Critics allege the governor's absence has given rise to chaos in his administration with escalating factional fights including the one recently witnessed over the transfer of sub county or ward administrators. "There is a good team to drive the county's development agenda in his absence but it is common knowledge that in his absence some things cannot move," Kipevu MCA Faith Pendo said.
Renovation
His absence, the MCAs claimed is having a negative impact on his administration's overall performance. County officials however argue that the trips are worthwhile endeavours in search of investments and partnerships to bolster health, education and infrastructure agenda.
"There is no vacuum at all. In his absence I perform all his duties and it is only people who want to politicise the otherwise worthwhile trips," said Deputy Governor William Kingi in a phone interview.
He clarified that the governor has been away for two weeks and not a month as claimed by his critics and was negotiating deals that will benefit Mombasa residents.
"Take a walk at Coast Provincial General Hospital (CPGH) and you will see that some of the ultra-modern equipment and renovation done there is through financial assistance from corporate and individuals from Dubai," said Dr Kingi.
He said equipping of the hospital was as a result of Joho's tours in the Arabian Peninsular. Joho reportedly traveled to Estonia, the tiny Baltic state in Northern Europe bordering Finland early March. He was accompanied by among others CEC for Trade, Tourism and Investment Fawz Rashid.
Besides discussions on trade deals the county signed an agreement with "Let's Do It Foundation LDIF, a grassroots organisation based in Tallin, Estonia's capital to ensure synergy on policies geared towards solid waste management.
The governor and his entourage also met Estonian officials and discussed tourism and and security besides sharing experiences on tolerance. He also promoted the 79th SKAL World Congress 2018 which will be held in Mombasa in October.
In Berlin, Joho met Germany officials, attended the Internationale Tourismus-Börse (ITB) congress, the world's largest trade show and also held discussions with SKAL International's president Sussana Saari at the ITB Berlin.
"We discussed key issues with regards to the preparations of the 79th SKAL World Congress 2018 which will be held in Mombasa this October," read a statement by Fawz. The CEC said the October congress in Mombasa will involve 2,000 top key players in the tourism sector from around the globe.
ITB is the world's largest tourism and trade show and attracts players from top tourism destinations from around the world. The ITB conference in Berlin was held from March 6 to 10.
According to a report from the Tourism department Joho's entourage "was happy to receive a lot of inquiries from various countries including Germany, Israel, United Kingdom, USA, UAE among others," during the ITB conference.
Joho later flew to Dubai where he was reportedly holed up until yesterday.
"There is no constitutional requirement that spells out how long he has to be out there. His best form of communication is through service delivery. Besides, he has a deputy and ward administrators to engage the people," the governor's lawyer Dennis Mosota said yesterday.
He said the craving for his presence is largely based on the tradition of "hand-outs" and hang-overs of pre-devolution days: "A full presence of the Governor would essentially kill delegation of duty, a key aspect of devolution which many governors are missing on."
Joho's spokesman Richard Chacha said he detoured to Dubai to seek support for health service projects. He assured that the Governor would be in office next week.
Meanwhile, Mombasa County Assembly's Finance Committee is also in Dubai.