Kwale residents want more from sands mining project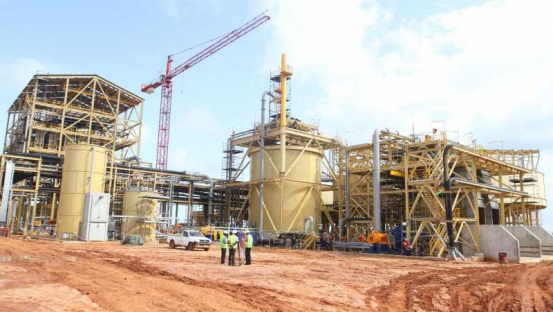 The Base Titanium mineral project is arguably the biggest extractive investment in the country.
This year has particularly proved successful for Base, following the mining of over 10 million tonnes of ore on its expansive 4,200-acre leased land.
This led to the exportation of 671,000 tonnes of ilmenite, rutile and zircon.
The company has since 2014 spent over Sh1 billion on projects that benefit the local communities in Kwale County.
Some of these were implemented to compensate those that were moved from the mine site and settled elsewhere, while others fall under corporate social responsibility (CSR).
The company has also provided employment and training opportunities to residents and others from different parts of the country.
The projects that the company has invested in include building of schools, dispensaries, social halls, sinking water boreholes and scholarships for needy students.
"Since we started operations, we have handed scholarships to over 1,000 students from this region," Colin Forbes, the general manager in charge of environment and community affairs told, The Standard in a recent interview.
Take a quick survey and help us improve our website!
Take a survey
Mr Forbes said the company has helped to commercialise farming of Irish potatoes, sorghum and cotton. However, the people near the mine at Maumba/Nguluku area of Kinondo and those relocated from the site and settled in Bwiti in Msambweni, say their lives have deteriorated as the company makes capital out of their former land.
Mining royalties
The 380 families resettled in Bwiti complain that they were inadequately compensated.
Former assistant minister Kassim Mwamzadi, who owned land in the mine site, was a member of the Maumba/Nguluku Farmers Association that negotiated with the Government and Base Titanium on the acquisition of their land.
"We were harvesting crops on our land and crops like coconut take about seven years to mature, meaning we would get no proceeds in that period. Some of those being asked to move were too old to start afresh. These are some of the reasons we were demanding higher compensation," Mwamzadi.
The mining Act 2016, gives the national government 70 per cent in mining royalties, the county government 20 and 10 per cent to the community where mining occur.
Mr Mwamzadi, however, wants this clause clarified to specifically state that the 10 per cent goes to the "people who were removed from the mining area" or those who were relocated, to benefit.
According to Forbes, the 'fencing' done before mining commenced, gave employment priority to the former residents of the mining site and its neighbourhood, before searching for skilled employees from the rest of Kwale, coast and nationally in that order. "But our people are complaining that this priority order has not been strictly followed," Mwamzadi complained.
Forbes, however, counters that 65 per cent of its workforce is drawn from Kwale.
The former assistant minister acknowledges that the company has followed the guidelines of the Resettlement Action Plan, by putting in place social amenities including schools and dispensaries in the resettlement areas.
Too old
On further acquisition of land for mining in Kwale, Mwamzadi advises those who would be affected to "cooperate as the Government would ultimately acquire the land that it requires, but be very firm in demanding ample compensation".
Said Ali Mwang'ombe, who lives in the neighbourhood of Base Titanium in Bomamani, agrees.
"We hear they want to expand mining to Bomamani, Magaoni, Mwaloya, and Mkambani. Some of us are too old to start all over again and they must give us compensation to keep us comfortable for the rest of our lives."
For most residents, provision of water is a major bone of contention.
Many complain that the boreholes are far apart and most were using unsafe water from shallow wells.
To fight drought, involve communities
According to the latest information from the Meteorological Department, rainfall will be poorly distributed in April, May and June, and this will have a serious impact on agriculture