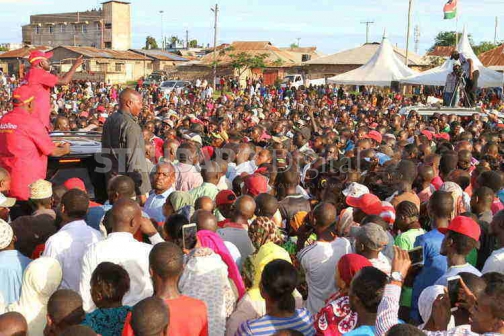 Jubilee's foray into the Coast hit a crescendo Friday as Deputy President William Ruto camped at the perceived Opposition stronghold of Mombasa, a day after President Uhuru Kenyatta addressed rallies in Kwale and Kilifi.
On Wednesday, the President and his deputy toured Tana River and Lamu to launch projects and campaign for Jubilee, signalling their unrelenting interest to bag a share of the region's votes.
NASA's Orange Democratic Movement (ODM) has performed well in the region in the last two elections, but Jubilee is intent on reversing this. The ruling party is banking on completion of key projects and defection of key Opposition leaders like Kwale Governor Salim Mvurya, Tana River's Hussein Dado and Kilifi North MP Gideon Mung'aro.
Cost of living
With NASA suspending its rallies in the Coast until after Ramadhan, the Muslim month of fasting, Ruto campaigned in Mombasa's Likoni where he renewed his onslaught against Mombasa Governor Hassan Joho, accusing him of spreading propaganda against Government projects.
On Thursday, Joho had claimed Uhuru and Ruto returned to the Coast to relaunch old projects and mislead residents. And yesterday, local discontent over the cost of living erupted as it did in Kilifi on Thursday when a section of the crowd addressed by the DP demanded that he talks to them on the matter of the high cost of maize flour.
Ruto responded by blaming the crisis on county governments, saying agriculture is a devolved function but added that "the government has stepped in by subsidising farm inputs like fertiliser."
The DP accused NASA leaders of inventing propaganda against the subsidised maize flour. "Agriculture was among the functions that we devolved in our first year in office. The governors should tell us why they have failed to produce food," said Ruto.
He said the government will spend Sh6 billion in the subsidised maize flour programme.
Ruto also dismissed Joho's push for the Port of Mombasa to be devolved, saying the facility is a national asset that serves Kenya and the region. He said the government has pumped more than Sh40 billion into the port and accused Joho of spreading lies that Jubilee plans to move port services to Naivasha.
"Those claiming that the port is being moved to Naivasha are those who failed in school. What is being created in Naivasha is an economic zone and not a port," said Ruto.
He implored on Mombasa residents to give Jubilee a second chance to complete its projects, citing the construction of the duel carriage from Mariakani to Mombasa and expansion of Moi Airport Road as some of the key infrastructure the government was implementing.
Mega projects
"We are constructing the Baricho water project at the cost of Sh15 billion and Mzima II at Sh35 billion. These projects will end water shortage in Mombasa, Kilifi and Kwale," said Ruto, adding that Jubilee has also issued more title deeds in the region than all other past governments.
Mung'aro accused the Opposition of sponsoring youths to shout down Jubilee leaders.