Curtain falls on former Kanu Coast tycoons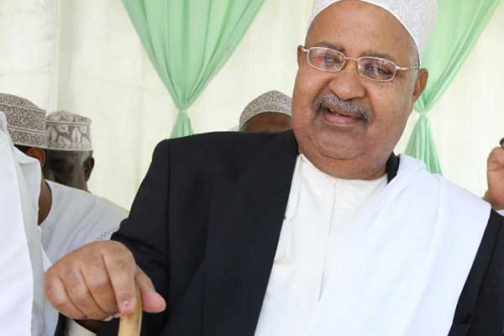 They had the President's ear. They had the money. They were so powerful that Cabinet ministers lined up at their private offices for support and blessings. Many trembled before them. They were businessmen, yet they wielded mighty influence on who got what politically at the Coast.
This group was epitomised by Tahir Sheikh Said (TSS), Rashid Sajjad Mohamed, Mohamed Bawazir and Mohamed Zubedi. So powerful were they that even regional political supremo and former Cabinet Minister Sharif Nassir did as they instructed.
Last week, President Uhuru Kenyatta demonstrated just how powerful Sajjad was during the Moi era. To get Uhuru to Parliament, Sajjad had offered to relinquish his seat, but President Moi would hear none of it. Instead, it was Mark Too, another Kanu stalwart who died just recently, who stepped aside to pave way for the future President's nomination to Parliament.
TSS, Sajjad, his estranged business associate Bawazir and the late Nassir made sure Kanu had an unmatched campaign chest. They braved the opposition wave in 1992 and 1997 in the Coast, emerging even stronger. Although Kanu lost Likoni, Changamwe and Kisauni constituencies, Moi won the presidential vote.
Crumbling empires
In Lamu, where he served as Kanu branch chairman, TSS influenced the election of Twaha in 1997 and his re-election in 2007. He also helped former Lamu East MP Mohamed Hashim get to Parliament.
But with the exit of Kanu in 2002, their influence, and affluence, has been waning.
TSS died on Tuesday a broken man, leaving behind a business empire crumbling under a weight of debts and children fighting over wealth he struggled to create all his life.
His influence in Coast politics diminished with the last of his proteges, Fahim Twaha, his son-in-law, losing the Lamu gubernatorial race in 2013. Twaha, a businessman of no mean repute, is married to TSS's daughter and was Lamu West MP for two terms, 1997-2002 and 2007-2013.
Yet the four powerful men were also entangled in bitter turf feuds.
In 2000, TSS launched broadside against Nassir, then Minister for National Heritage, terming him politically bankrupt and dismissing him as a liability to Kanu. TSS was enraged by Nassir's regular outbursts against Tourism Minister Najib Balala and the late Karisa Maitha, saying it was making Kanu unpopular. He also accused the former Mvita MP of refusing to pay him a Sh600,000 loan he allegedly lent him in 1996.
But TSS would still support Nassir in the 2002 General Election, despite the differences. However, Nassir and Kanu received a resounding defeat to Narc's Najib Balala.
It was after this that TSS's political and economic influence in Mombasa and Coast region begun to plummet. With Narc forming a new government, he lost multi-billion shillings tenders at the Port of Mombasa.
TSS was 74 when he died on Tuesday while undergoing treatment in Johannersburg, South Africa, according to his son Mohamed Said. His death closed a chapter of past movers and shakers of Coast politics as Sajjad and his other peers opt for a quite life managing their vast business empires.
During prayers for his body at his Sheikh Nurein mosque in Mombasa, many eulogised him a shrewd operative. "He is one of the figures that shaped the region's politics. He was also a charitable person who assisted in the spread of religion," said Mombasa Senator Hassan Omar in an interview.
"He was my mentor. I will miss him a great deal. May Allah rest his soul in peace,'' said Twaha.
Despite his legendary wealth and influence, TSS was in the news for all the wrong reasons in his twilight. First, he had incurred debts running into billions of shillings and financial institutions were fighting for control of his property and businesses.
His sons Sabir Tahir Sheikh and Sheikh Noorein Twahir are also locked in a legal battle over the control of their father's vast transport business. The TSS family is also battling to salvage his other franchise, Unga Millers Limited, from a complete takeover by banks over unpaid loans totaling Sh2.7 billion.
Political genius
Last year, the Kenya Commercial Bank took over management of Unga Millers Ltd after the firm failed to honor a Sh1 billion loan. But the National Bank of Kenya and the National Finance Corporation NIC have also staked claims over the miller.
"It is upon the siblings to unite and protect Mzee's empire. He inspired many in political and religious spheres," said Sheikh Swaleh Bahassan, a confidant of TSS.
Sajjad on the other hand can be equated to a political genius. Like the late Mark Too, he had President Moi's ear and fixed many nagging political problems of the Kanu regime at the Coast.
Like Mark Too, Sajjad was in 1998 nominated to Parliament as MP owing to his closeness to the then President.
"Sajjad kept Kanu's wallet at the Coast. Every party politician flocked his private offices at Liwatoni and his flour mill at Shimanzi to get campaign funds," says Kassim Bakari Mwamzandi, a former Kanu MP and assistant minister.
"He got what he wanted during the Moi regime. Ministers trembled before him," says former Cabinet minister and Likoni MP Suleiman Shakombo.
It is Sajjad that nominated Balala as councilor and made him Mombasa mayor in 1998, but dramatically kicked him out a year later after they differed.
His business empire includes Milly Glass factory, Milly Fruits and a chain of commodity businesses like sugar.
Like TSS, Sajjad's immense influence reduced when Kanu lost in 2002. He retired to a quite life doing business in and outside the country. He has since surrendered 18 title deeds for prime land valued at more than Sh1.6 billion after he became weary of endless court battles.
Sajjad lives in Mombasa, Dubai and London.
He was friends and business partners with Mohamed Bawazir and Mohamed Zubedi, a former East Africa Legislative Assembly MP.
Like Sajjad, Mr Zubedi, a generous politician, retired to a quite life in business after Kanu lost the 2002 polls. Except for a storm over the allocation of the Mwembe Tayari market rooftop for a car park, he has been largely out of the limelight.
Bawazir still retains a veritable financial empire that includes milling, real estate and is by no means poor but his role in politics is diminished.