CS Phyllis Kandie tells agencies to market Kenya abroad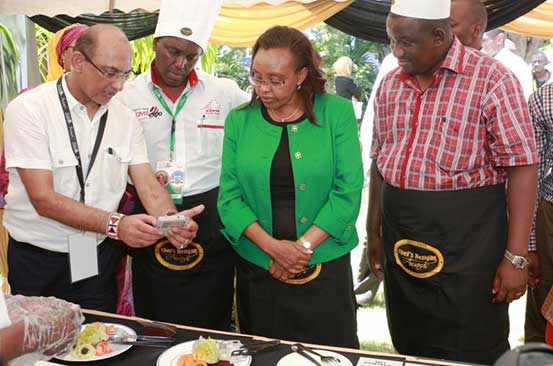 MOMBASA: Tourism Cabinet Secretary Phyllis Kandie has urged international travel agents and tour operators attending the fifth edition of the Magical Kenya Travel Expo (MKTE) to market the country aggressively in overseas markets.
Ms Kandie said the Government had put in place measures to address insecurity that had dogged the nation in the last two years and that normalcy had returned.
"We are rebounding. We had challenges as we confronted a global enemy in the name of terrorism, which is not synonymous to Kenya. Already, there are a number of gains achieved as we enter into the recovery phase," she said.
Kandie was speaking while officiating the opening of the event at Leisure Lodge Resort in Diani Thursday.
The CS, who was accompanied by Kwale Governor Salim Mvurya, said the coastal region had borne the brunt of insecurity that saw the withdrawal of charter flights, issuance of travel advisories and cancellation of bookings in the recent past.
"The impact of mitigating measures the Government has put in place is already showing results as we continue to review the trading environment," Kandie said.
She said one of the measures already bearing fruit is the re-branding of Destination Kenya to Make It Kenya, which was personally launched in Milan, Italy by President Uhuru Kenyatta and later relaunched in Nairobi to specifically build the Magical Kenya brand.
There have also been massive investments in the security sector like the recruitment of an additional 10,000 police officers to boost the existing numbers, an ongoing hotel and restaurant classification exercise being spearheaded by the Tourism Regulatory Authority (TRA) and promotion of the meetings, incentives, conferences and exhibitions (Mice) tourism concept.
Kenyatta International Convention Centre Board of Directors Chairman Omingo Magara, said they were fast-tracking the development of Mice centres at the county level. Mr Mvurya said his county had a lot more to offer in terms of investment opportunities.