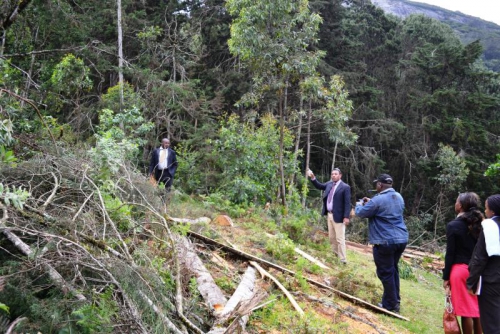 Kenya Forest Service (KFS) personnel in Taita-Taveta County have smashed an illegal logging syndicate in Government forests.
According to senior officials, loggers had invaded Iyale Hill forest and were indiscriminately harvesting trees using axes to avoid detection.
The KFS officers noted Iyale forest in Taita Hills was one of Kenya's water towers and a tourist attraction site, saying it was on the verge of collapse due to widespread environmental degradation.
They said all streams in the region emanate from the 100-hectare forest.
KFS Forest Station County Manager John Mbori said they had arrested two suspected poachers with several tonnes of forest materials.
Read More
He said they acted on a tip-off from locals and raided the forest at night where they nabbed the suspects while others escaped.
Felling trees
"The cartel has been going on with its illegal activities for quite a long time in Government forests before we managed to smash it. The poachers indiscriminately cut down trees and roll them into neighbouring farms where they convert them into timber.
"There is collusion between the powerful cartel and the neighbouring private farms. The poachers use axes at night so that they cannot be detected by KFS personnel," said Mbori yesterday.
Speaking at Wundanyi Police Station, Mbori said the cartel had been taking advantage of a lean workforce to deplete the environment.