Sponsor withdraws school support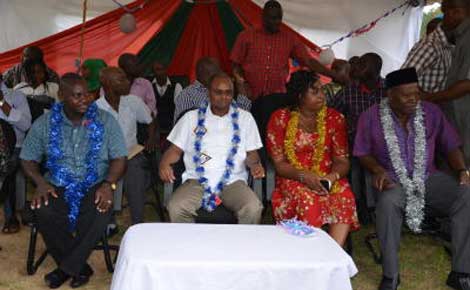 From left: Kaloleni MP Gunga Mwinga,Governor Amason Kingi, Women Rep Asha Jumwa and Ganze MP Peter Shehe at Chalani Primary School. The leaders yesterday held a crisis meeting after a sponsor withdrew support for a special school. [PHOTO: JOSEPH MASHA/STANDARD]
The fate of more than 3,000 school children, including 600 physically-challenged ones, hangs in the balance after the sponsors have withdrawn their support.
Mombasa Cement Ltd, which has been sponsoring Sajahanad Special School in Mtwapa, withdrew its support late last year due to differences between the company, the National Land Commission (NLC) and the county government.
County Commissioner Albert Kobia, Governor Amason Kingi, his deputy Kennedy Kamto, Women Rep Asha Jumwa and Kilifi South MP Mustaffa Idd held a crisis meeting at the school to try and address the problem soon after the sponsors communicated their withdrawal.
A source from the cement company yesterday confirmed their withdrawal of support to the special school but declined to give details.
Mr Kobia yesterday said the reason for withdrawal was caused by a row over the cement factory land at Shauri Moyo.
Land row
During Jamhuri celebrations last year, Governor Kingi had accused the cement company of erecting a perimeter wall around the plant, arguing that the company had not obtained an approval from his administration.
He further argued that the land accommodating the cement factory had some ownership cases in court and that NLC was also probing the matter.
Kingi later ordered county security officers to move to the site and demolish the wall, something that angered the managers of the cement company.
Yesterday, the county commissioner said about 600 physical-challenged children in the centre risked starvation due to lack of food.
The school's head teacher Patrick Mzungu told The Standard the children were going without food following the withdrawal and asked well-wishers to come to their aid.
"More than 600 severely disabled children have nothing to eat after sponsors stopped sending us funds. We ask the county government to do something," said Mr. Mzungu.
County laws
Mr Kobia said the withdrawal was big blow to the community and the government and urged political leadership to handle issues related investors with a sober mind.
"The sudden withdrawal of the sponsor from Sajahanad Special School in Mtwapa early this year is a big blow to the community. The county government must treat investors on the ground and those planning to come with respect," said Kobia.
The commissioner said the sponsor was spending more than Sh5 million every month for the running of the centre. This includes buying food for the children, medication and other essential services.
Governor Kingi however urged investors in the county to ensure they observe the laws of the county.
He said those found to have broken them will be dealt with or taken to court.
"In Kilifi county, we have our laws just like other counties in Kenya. My administration is in good terms with all investors but we also want them to follow the laws of the county," said the governor.