Mother's agony after son goes missing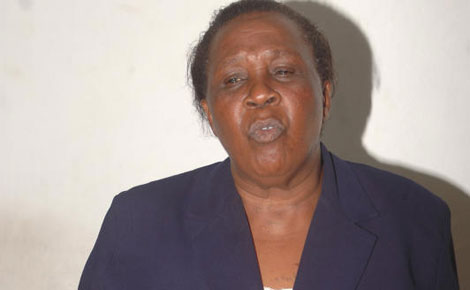 Susan Mwema, the mother of Safari Mwema, who was abducted by men posing as CID officers at his Amazon home in Mombasa's Bamburi estate. Safari has been missing for a fortnight. [Photo: Omondi Onyango/Standard]
Mombasa, Kenya: Nothing can describe a mother's pain after losing a child and this is so for Susan Mwema whose firstborn son was kidnapped two weeks ago by unknown assailants in Mombasa.
But she has vowed to search for her son, Safari Mwema, 40, until she finds him.
A fortnight ago, six kidnappers posing as Criminal Investigations Department officers based in Nairobi stormed Safari's Amazon home in Bamburi on July 28 armed with pistols.
They harassed his girlfriend Naomi whom he lived with, bludgeoned him and threatened to break his right leg like the left one that was already injured after a road construction tractor hit him.
John Muthoka, Safari's younger brother, said the men bundled his brother in one of their two cars that bore foreign registration number plates.
He later received a suspicious message which he believed must have been written by the abductors. It read: "The car I hired to Mrefu has caused me trouble and now I am headed to Nairobi."
According to Susan, her son who works as a car hire broker in Mombasa had hooked a client identified as Suleiman to a firm in Mombasa.
Facilitated deal
The victim's mother said her son had facilitated the deal with the company through the phone from his bed as he was still recovering from an accident that broke his left leg.
Susan said after the four days expired, efforts to reach Suleiman were fruitless, which compelled the owner of the vehicle to start tracing it.
"The vehicle was found at Parklands Police Station sprayed with bullets and upon inquiry, police said the vehicle had been involved in a robbery and four suspects had been killed while one escaped," explained Susan.
With the help of a communication expert, Susan traced her son's phone to Gilgil in Nakuru but was unable to find him there. Her visits to various police stations in Nairobi and Mombasa have borne no fruit.
Police Spokesperson Zipporah Mboroki said she was not aware of the case but would make a follow-up.
"Not all cases come to my desk so I would not be able to verify whether Mwema was actually kidnapped or arrested," she said.
In spite of the family claiming that Mwema had been sourcing clients for the firm for almost four years, the owner, who declined to reveal his identity, declined having ever met or known him.
But Susan said she will not stop searching for her son, exuding hope that he is alive and well somewhere.