Be good to Nick Mwendwa, he just epitomises Kenya's value systems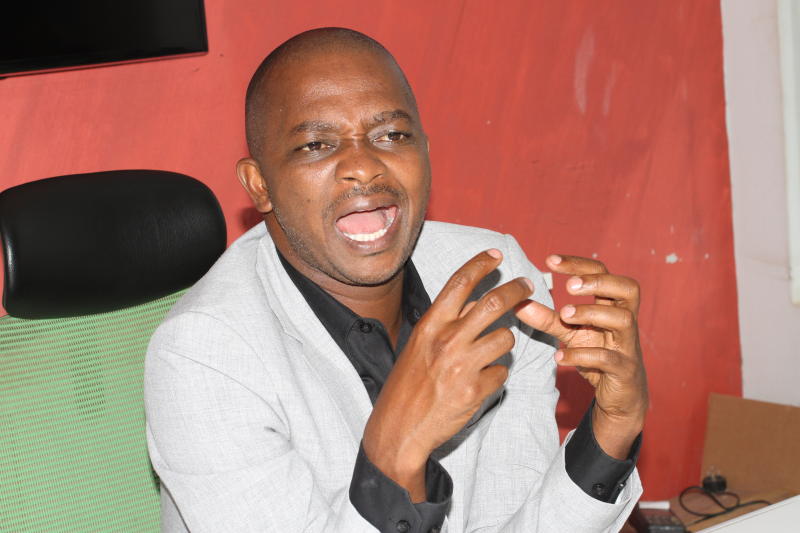 Many are the times you have thought that you have heard all the good news from Kandanda House. But as you sit back to make sense of it all, Football Kenya Federation breaks the wind with more news that can only be categorised under scatology, and you have to block your nostrils.
Deep down you know it stinks to high heavens like most things that come from public offices in Kenya, but you just want to listen to the mantra of Kenyan football is growing, and watch it grow to nowhere.
By all the lowest standards, Kenya's football federation and more so its boss, the indefatigable Nick Mwendwa, deserve all the accolades, and more, for what their ability to keep fans entertained with local content.
In Kenya's modern history, and indeed in the whole exuberant life Kenya's dying football, no one has entertained fans more than Nick has since he rose to the helm of FKF just the other day.
Just when you are sure that Nick has reached the apex of his nadir, he bounces back and unleashes more antics from his bag of theatrics.
Like the performer he is, he is so enmeshed in his own performance that he cannot read the room, and delivers an encore more lurid than the original act which he makes the centrepiece of his agenda.
Midweek, Nick was on national TV offering more entertainment with a gold plated silverware, the first of its kind ever on these shores.
For the first time ever, as a young Kenyan journalist is bound to say about anything they come across, Kenyan football clubs will be awarded a meaningful trophy at the end of the season — if at all the players do not die of hunger.
Previously, clubs that won the league would also get money, but is money better than air that they are highly likely to get at the end of the season like it happened last season?
Some people keep saying oh, the winning club did not get their cash prize, oh, they never even got a trophy blah blah, but little do they know that Nick is the man with the plan, the host with the most — to misappropriate a phrase — who never disappoints when it comes to dishing out disappointments because he is the best in that category.
That should not be a surprise, for Nick is just doing what the bigger entity, the government, does. There is always a plan, with politicians busy trying to convince Kenyans to have faith, only that at the end of it, there is never much to show.
Game of optics
And so Nick unveiled a trophy in the middle of the week, on national TV, but some misguided youth who do not understand the art of euthanising football went on social media platforms saying that the money spent on it could have been spent on something better.
What can be better than optics in this age when the country's top two clubs by fan base have to threaten not to honour their tie because they have not received their money that the league's title sponsor channelled through FKF?
Oh ye of little faith, open your eyes and you will see how Kenyan football has made strides towards its resting place during Mr Mwendwa's reign.
Of course it was slowly and surely making strides towards there long before Nick took charge, only that now, it is surely getting there at a faster pace.
People have been whispering that Nick promised a pie in the sky and they cannot get even crumbs. Nope. He promised banana bread so that Kenya's football can slip on the peels as it has been doing. He also promised a whole bakery whose products were to be delivered in an OB van, which was also to facilitate broadcasting the suffering skills of footballers after participating in the league.
On that minor issue of that statue that dropped out of sculpting school, many football fans are blinded by its shine, and cannot see the beauty in all its garish splendour.
They cannot see the meaning of its base which they dismissed saying it has a cheetah instead of a leopard, yet it was meant to depict Kenya's magical wildlife and the famed Big Five.
That is futuristic. That is called thinking out of the box. In this modern world, where football matters are run with a 1940s ball ya juala mentality, you can't just put all your cards on the table.
Enemies are lurking in every corner, and you have to devise methods of keeping them away because they think they know so much, yet they cannot win elections to head the federation.
As such, the trophy needs images of more animals such as snakes. That way, it will fully depict the jungle that Kenyan sports is in, the reptilian nature of sports managers and the mediocrity Kenyans have embraced as the gold standard of governance in all spheres and at all levels.
So Kenyans, be nice to Nick Mwendwa because he is one of you and is totally living up to your value systems.