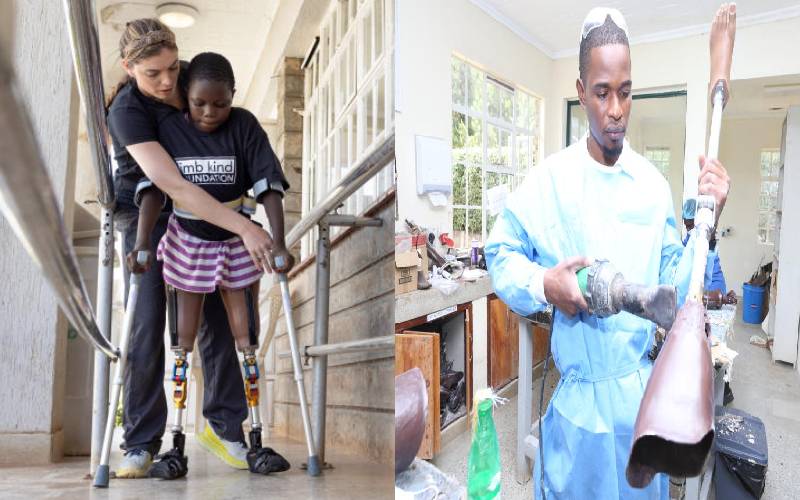 For all her life, Britney Rabongo has been confined to a wheelchair since she was born with a club foot.
Attempts to reconstruct the legs through surgery failed, reducing her life to one of dependency.
The 13-year-old girl from Sondu Miriu in Kisumu was born with the defect in which the foot is angled out of shape or position.
Rabongo's mother Ann Anyango took her to Nyabondo Hospital in a bid to have the defect rectified through two surgeries which were unsuccessful because she had no ankle bone, and by the time she was 10 years old, her legs could not support her weight.
"Rabongo could not walk, she could not even go to the toilet, schooling was difficult, I used to carry her to all these places on my back as I could not afford crutches," says Anyango.
"I love Rabongo and I wanted the best of her even when life treated us so unfairly, my days were spent taking her to school, two and a half kilometres daily.
I was depressed, I felt helpless watching Rabongo crawl at home and I could do nothing, every sunrise felt like a sharp tool piercing my soul," she says.
It is at the height of desperation that Anyango was told of AIC-CURE International Hospital in Kijabe, which fits prosthetics for people with such defects and she decided to give it a try.
Anyango's story was echoed by Jecinta Nyaguthii, 27, from Kirinyaga who gave birth to Giana Wanjiku with a birth defect where her major arteries in the legs were incomplete affecting Giana's limbs' development.
After seeking opinions from different doctors, Nyaguthii was advised that Giana had to undergo amputation at six months of age.
"As a mother, I wanted the best for her even if the best would mean amputation. It was a painful moment, seeing my daughter being wheeled to a theatre for amputation was a heartbreaking moment for me," Nyaguthii said.
Nyaguthii made a trip to AIC - Cure Hospital where she met the doctors and prosthetics technicians who assured her they would make artificial limbs for her daughter.
The prosthetics cost Sh1.4 million and are therefore out of reach to many Kenyans and especially the needy ones.
However, Anyango and Nyaguthii have a reason to smile after it partnered with Limb King Foundation, an American-based organisation that supports such compelling cases. The organisation paid for the prosthetics giving the girls a new lease oP life.
Dr Seith Simiyu, Cure hospital prosthetics technician said it takes the team five days to make the artificial limbs.
The biggest satisfaction, he says, is seeing a child move out of the prosthetic workshop walking.
"It is a feeling better than that of hot coffee on a cold morning, the sight of a child who came on a wheelchair or supported by someone walking around here, moves my heart, changing the life of a child or two, lifting them from wheelchair to their legs is a priceless feeling and endeavour," says Dr Seith.
The hospital, he says, attends to about 30 cases a week.
Prosthetic legs cost between Sh120,000 and 1.4 million depending on the patient's condition.
For children below 18 years, the hospital gives a subsidy of up to 30 per cent.
"When a patient is fitted with a prosthetic, they are able to stand by themselves, their general appearance is improved and this goes a long way to help them even psychologically; and because children are growing we change the artificial leg as they grow and service them," said Dr Seith.
Dr Philemon Nyambati a practicing surgeon in the hospital explained that some children get to the hospital with congenital disorders that are too difficult to treat even through surgery.
Nyambati noted that a bulk of the amputees are accident and snakebite victims from areas like Baringo.
"Others include infections that keep on ascending from the area of infection towards the upper regions which upon examination we recommend amputation," Nyambati said.
Nyambati added that amputation comes with heavy mental anguish because patients lose a limb that they are used to using.
"Amputation affects patient's self-esteem and outlook but here at the Cure centre, we operate on the patients knowing that we shall fit them with a prosthetic and that informs us how to do it, especially for the prosthetic fitting, we make sure that the left part is cone-shaped and heals well to allow easy fitting of the artificial limb," Nyambati said.
The surgeon observed that after the patients heal and walk in the new device, they feel better and their worries and concerns drop significantly.
"Before a child walks out of the prosthetic workshop with artificial limbs, there are many stages that must be thoroughly worked on to make sure that we release from the hospital a well-prepared child; this includes post-prosthetic counselling. When all is said and done we watch with awe and satisfaction as a child walks out of this facility with new lease of life," Nyambati said.