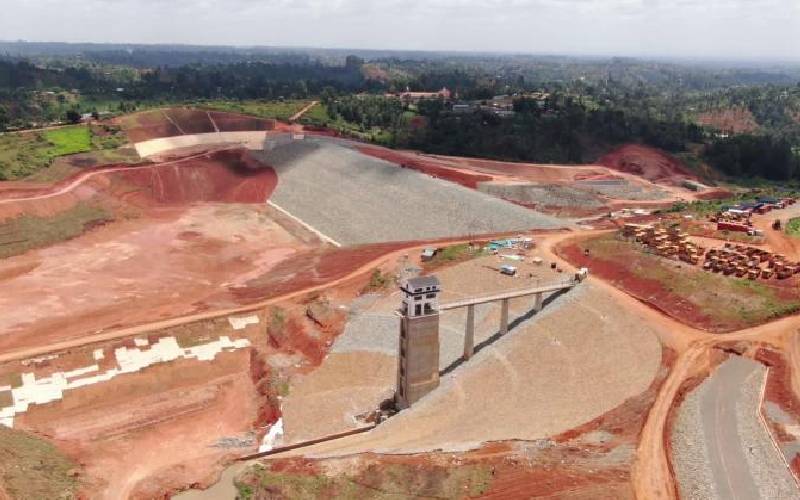 After years of exchanges between residents and the government over delayed compensation, the Sh24 billion Kariminu II Dam is finally complete.
Athi Water Works Development Authority (AWWDA) announced that the mega dam, which will supply Ruiru, Juja and Athi River towns, is ready to impound water and start supplies before end of June.
Water Permanent Secretary Engineer Joseph Njoroge said the multi-billion project will end acute water shortage, especially in Nairobi whose population has continued to grow drastically resulting in frequent rationing.
Njoroge revealed that the dam will produce at least 26.5 billion litres of water that will be treated from the area and supplied to various areas through a gravity-driven piping system that is almost complete.
While lauding the completion of the project, area MP Wanjiku Kibe stated that the dam will facilitate the economic growth of the area through enhanced road networks and investments by entrepreneurs.
She, however, took issue with AWWDA for failing to reveal whether the constituency stands to benefit from the water supply. Kibe regretted that despite numerous attempts to question the agency's commitment of supplying locals with water, the government organ has remained non-committal, a situation that is likely to plunge the area into a water crisis.
She added that even other CSR projects that the agency had promised to do have not been commenced and urged them to expedite to avert locals fury. The completion time of the project that is being built on a 600-acre plot has been delayed due to the sustained tussles between the government and the landowners.
Initially, the construction was expected to end in December 2020 after 36 months of work according to the schedule in a contract that was signed in May 2017. The mega project has three main components among them the dam, water treatment plant of capacity 70,000 cubic metres per day and 67km of raw and treated water pipeline.
Two terminal tanks will also be constructed of capacities 23,500 cubic metres and 3,000 cubic metres in Ruiru and Juja, respectively.