Family's joy and struggles raising quadruplets in Embu village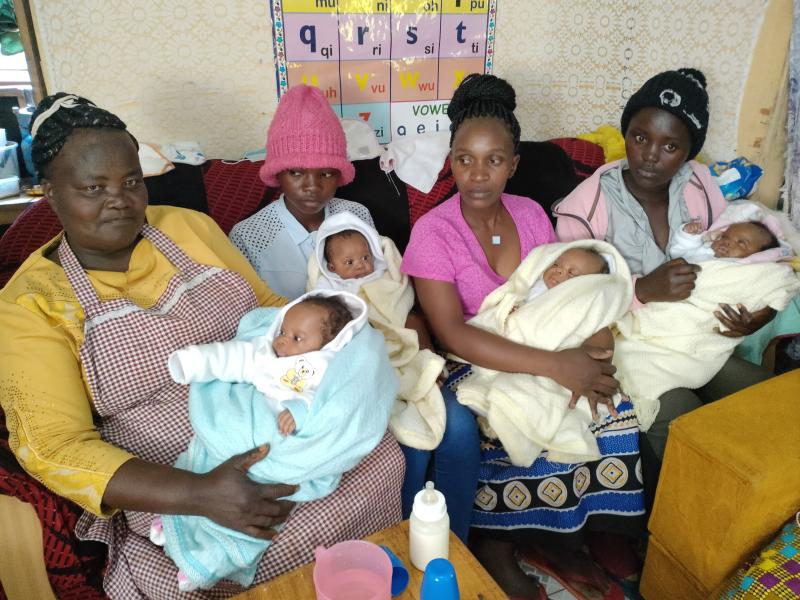 Ann Mugai once believed that multiple births only happened to special people or in the news and movies.
But when Ms Mugai, 29, delivered three girls and one boy three months ago, it dawned on her that anyone can have quadruplets.
"I never thought that someone from Embu County could deliver quadruplets, let alone me," she said amid laughter.
Mugai, a house wife, and her husband David Muturi, a boda boda operator from Kagumori Village, Embu West Sub-count were excited about the birth of their children, having lost one of their older twins earlier.
But raising the babies on Mr Muturi's meagre earning as a boda boda rider has not been easy.
Friends and neighbours have been offering them support since the babies arrived, but they feel the young family could do with more help.
Mugai cannot go out to look for work since she cannot afford a househelp. And even if she could, she would still have to be around because one person can't handle the four babies.
Her husband has been trying hard to strike a balance between helping her take care of the babies and providing for the family.
In 2015, the couple got twins but one of them died immediately after birth due to health complications.
When The Standard visited the family, Mugai was collecting clothes from the clothesline as some neighbours held the babies. As if on on cue, the babies cried in turns as she narrated her story to The Standard.
Mugai did not have any complications in her first trimester, and started prenatal visits at Nembure Health Centre as a formality.
At the fifth month, a nurse prescribed an ultrasound after detecting a double heart beat during one of her prenatal care visits.
It indicated that she was expecting triplets, but a second ultrasound at seven months confirmed that it was quadruplets.
She said that this caught her by surprise as she and her husband had only bought clothes for three babies.
At 37 weeks, she delivered the babies through C-Section. The boy was underweight and the four spent a month in hospital until he attained 2kg from 1.7kg at birth.
After discharge she was advised to continuously breastfeed the boy while the girls were free to take formula milk.
"As I walked out of hospital, my biggest worry was how to handle four babies having been accustomed to assistance by the nurses," Mugai said. Muturi trained as a electrician but turned to boda boda business to make ends meet.
"It's about 4pm and I have not earned anything, yet my family has to eat. We cannot fit in one bed anymore and I now spend the night on a chair," Muturi noted.
Although he is happy to make little sacrifices, it pains him when he cannot provide for the children and is appealing to well-wishers to help.