Gatonye Gathura buried at his Ndeiya farm in Kiambu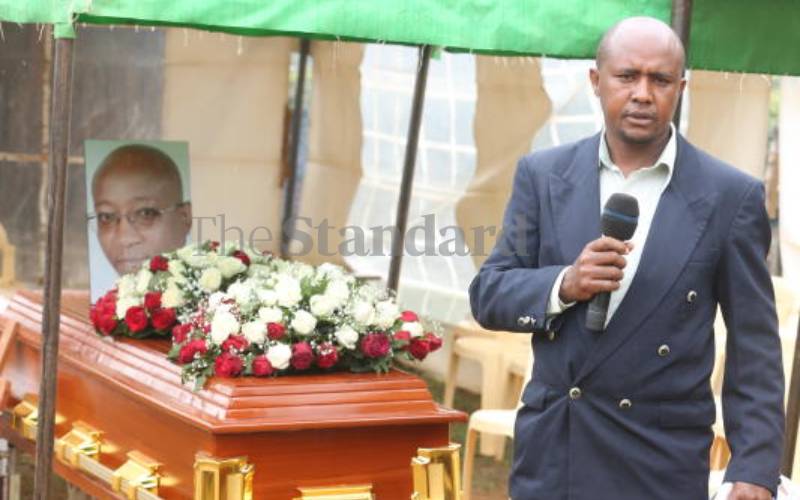 Veteran journalist Gatonye Gathura, who until his death worked with the Standard Group as a health reporter was laid rest at his home in Kiambu.
Many Kenyans turned out in Ndeiya village to give final send off to the health and Science journalist. Gathura went missing on October 26, 2021, and was found dead in Naivasha.
Authorities further said that Gathura's body had been found dumped on the Naivasha-Mai Mahiu Road on the day he was reported missing.
After a month of being preserved at Naivasha morgue as an "unknown male adult", the Registrar of Persons used fingerprints to establish his identity and subsequently his family was notified through the local area sub-chief.
Born in 1960 in Nderu village Kiambu county and the youngest in a family of seven, Gatonye academic life started at the nearby Nderu Primary school in 1969 where he completed Standard 7 having sat for Certificate of Primary Education.
In 1976 he started his secondary school education at Ngenia high school where he studied until 1979. From 1980 he joined Mumias high school in Western Kenya where he studied until 1981 for his A level.
Gatonye would later join Kenya Institute of Mass Communication (KIMC) in 1985 where he attained a diploma in Journalism.
Between 1982 and 1983 Gatonye taught at Olenguorone and Kikuyu secondary schools. In 1988 Gatonye worked as a sub-editor at the Kenya News Agency and later at the African Press Service and World Wide International Foundation.
In 1993 Gatonye joined Nation Media Group as an editor for a couple of years before joining the Standard Group in the same capacity.
At the time of his death he was the CEO of Rocket Science company, where he published his works.
Gatonye is survived by his two wives Alice Gatonye and Joyce Kabura with whom they had six children.