Kirinyaga man suspected of wiping out his family to be held for 14 days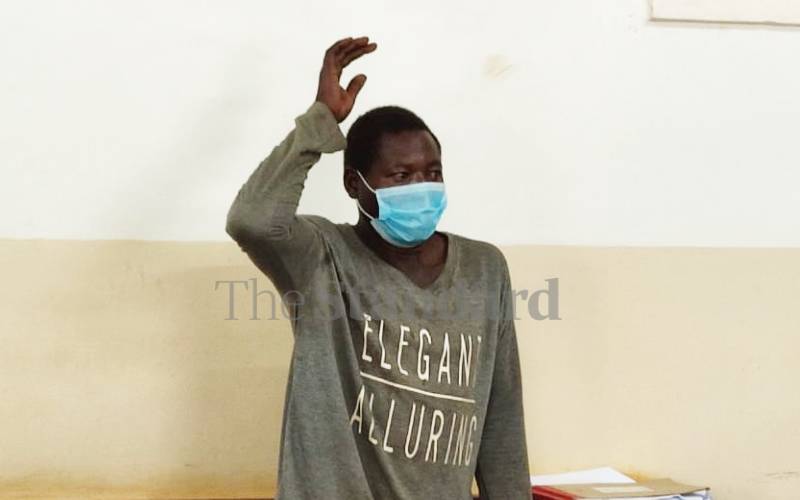 Paul Njuki Murage, the man suspected to have killed his wife and four children on Sunday in Kirinyaga County, has been remanded in police custody for 14 days to allow further investigations.
Sitting at Kianyaga Law Courts, Principal Magistrate Leah Kaberia ordered the suspect be detained at Kianyaga Police Station for 14 days to allow further investigations.
This is after the investigating officer made a miscellaneous application to hold the suspect to enable him to comply with all requirements before formally charging Murage.
Police said they will need the time to record more statements from the witnesses and search for the murder weapon that the suspect reportedly told them he had thrown into the river.
Kaberia granted the request and ordered that the suspect be held until December 15 when he will be produced in court.
The magistrate directed that period should also be used to subject the suspect to mental assessment to find out whether he is fit to stand murder trial.
Kaberia said that the suspect's DNA samples should also be taken and police should accord him enough protection from possible mob justice.
The period will also be used to provide a state-paid lawyer to the suspect as per the requirements of the law.
The suspect was taken back to court in the afternoon after he was rushed to the hospital after complaining of stomach pains and a headache when he appeared in the courtroom in the morning session.
The suspect raised his hand and informed the magistrate that he needed medical attention before his case could proceed.
Murage, who appeared disturbed, did not oppose his remand at Kianyaga police station.
His father, Njuki Gichobi, who was in the court told journalists that he was surprised what happened describing his son as an obedient and quiet man since he was a boy.
Gichobi said that his son and wife have been living a normal life and would go to the shamba and tend their crops together without amicably.
He said that his son also loved his children so much.