Thika thirsty as firm struggles to pump water to growing town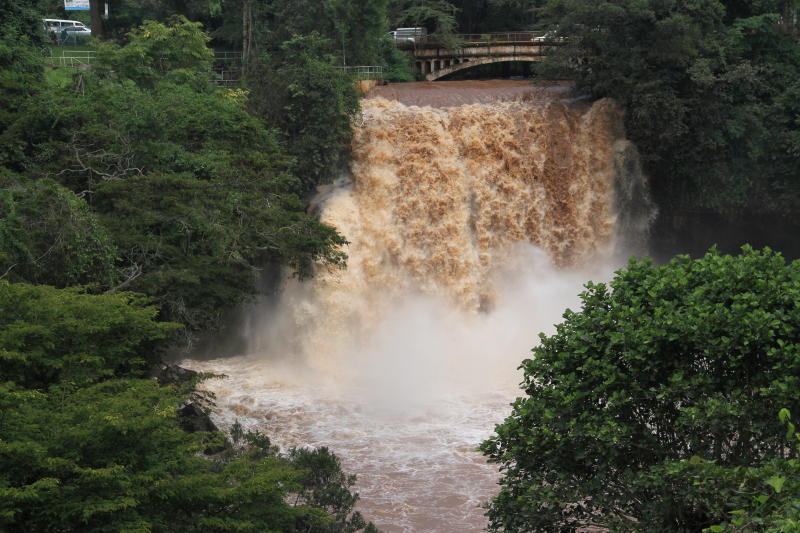 Taps in Thika town are dry.
Ironically, it is sandwiched by Chania and Thika rivers but residents are suffering because of under-investment.
Water rationing is the norm in Thika town's housing estates and the most affected are Ngoingwa, Makongeni, Landless, Muguga, Kiandutu and Weitethie.
The industrial town depends on a 50-year old water supply system which was established when the population was small and has never been upgrade even as it expands.
According to Samson Kinyanjui, a resident of Ngoingwa, tenants used to get water throughout the week some years back but as from 2017, they have been suffering.
"That has been reduced from six days to once a week. Even so, there is no guarantee that we will get the water," he said.
He said they are forced to buy water at exorbitant prices from vendors due to high demand.
In some estates, vendors have been cashing in on the scarcity of water. They sell a 20-litre jerry can for between Sh20 and Sh50.
Some residents of the affected estates said the shortage has inconvenienced them since they have to wake up early in order to buy water from the vendors.
They said many people flock to the water points and they have to wait for long due to high demand.
Thika Water and Sewerage Company (THIWASCO) said it needs to supply an additional 15,000 cubic metres daily to end water rationing in Thika town and its environs.
Moses Kinya, the THIWASCO managing director said the current water pumping capacity of 40,000 cubic metres is way below the demand, given the growing population.
He said the rationing in the town will continue because company's capacity cannot match the growing population.
He asked consumers to be patient.
He said through partnerships, the water company is in the process of upgrading the water supply infrastructure and assets to cope with the demand.
Some residents have in the past accused the water firm of mixing treated water with water from boreholes that were sunk by the national government through Athi Water Works Development Authority.
Originally not planned to be a beneficiary of the Sh24 billion Kariminu dam in Gatundu North which was to supply Juja, Ruiru and Athi River towns, Thika has been looped in because of gravity.
This is after Thika MP Patrick Wainaina successfully negotiated with the Water Ministry and Athi Water Services who are constructing the dam to consider the town to increasing demand.
"Some of the dam water will be channeled to a treatment plant we are constructing near Mary Hill Girls. From there we will lay pipes to distribute the water to other parts of Thika town," Wainaina said.
Addressing the town's residents in Makongeni, the MP said following the increasing population it requires another 15,000 cubic metres to complement the 70,000 cubic metres that it has, to fully supply water to all estates.
"During the dam's design stage, Thika town was overlooked despite it being an industrial town and the biggest in Kiambu County. Also, its population has increased owing to the Thika highway and several learning institutions. All these factors have now been considered and the residents are part of the beneficiaries," said Wainaina.
"There has never been a major upgrade on the town's water supply plan. That is why there is water rationing each week."
Residents have supported the move, saying it would reduce their expenses on water from vendors.
"We hope the plan goes through to reduce our agony. Sometimes we rely on river water which is polluted," said Peter Mungai, a Makongeni resident.
As part of the efforts to address the water shortage in the town, last year the Kenya Defence Forces (KDF) drilled a borehole for residents of Gatuanyaga and Landless areas who had been grappling with water rationing.
The borehole that was handed over to Thika Water and Sewerage Company (Thiwasco) for treatment and piping in February last year was a big relief to hundreds of residents who had been buying water at exorbitant prices from vendors.
The 130-metre deep borehole's capacity would be added to the company's current water supply capacity.
The borehole has enabled the company to supply water to some of the town's estates as they wait for the completion of the Kariminu water project.