Kimemia denies interfering in affairs of assembly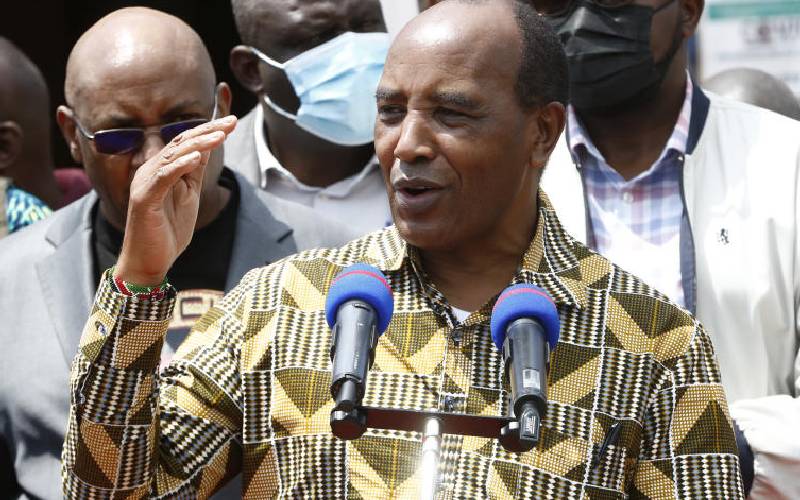 Governor Francis Kimemia has distanced himself from the wrangles between Nyandarua ward representatives and Speaker Ndegwa Wahome.
The county boss has urged Wahome to sort out his differences with members instead of dragging his name in the dispute that has seen the Speaker locked out of the Assembly for nine months.
Mr Kimemia denied claims that he was interfering in the affairs of the assembly, saying it was shameful for the Speaker to use the media to spread falsehood and distort facts that were in the public domain. The governor was responding to Wahome's accusation in one of the local TV stations that he was behind the Speaker's woes at the assembly.
Wahome, in a breakfast show aired on a local television station, claimed Kimemia has frustrated his return to the county Assembly even after the High Court in Nakuru reinstated him three times.
"For the past nine months, I have not been able to access my office because the governor (Kimemia) does not want me back. He has infiltrated the Assembly leadership that is opposed to my return because I have declared my intention to unseat him in 2022," Wahome claimed.
But yesterday, Kimemia appeared in the same talk show where he termed Wahome's accusation as his usual "modus operandi."
"Mr Wahome has gone out of his way to prevaricate about the operations of the county government to besmirch the name of the governor for his selfish political reasons," he said.
He dismissed the Speaker's assertions that the county's absorption rate for development funds was 50 per cent.
"These records are available for public scrutiny and can be accessed from the respective websites. For the last three (3) years, the County's absorption rate has consistently been at an average of 70 per cent contrary to the false assertions," Kimemia said.