Builders: Rain may delay President Uhuru's legacy project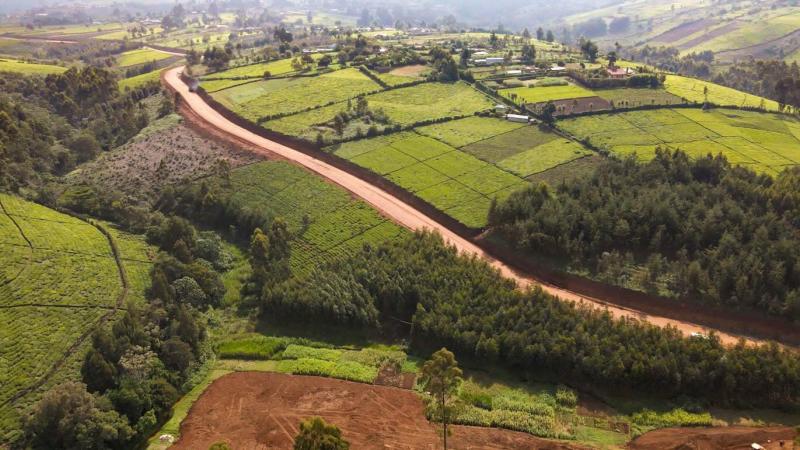 As the spine of the celebrated Mau Mau route takes shape, contractors have expressed fear that heavy short rains might delay its completion. The project had been projected to be complete by end of the year.
Sporadic heavy rains experienced along the hilly terrain have already slowed the progress of the construction, mainly in Murang'a County.
By September 10, according to Kenya National Highways Authority (KeNHA), the Kiambu section, which had two contractors, was 25 per cent complete, while in Nyeri, progress was at 20 per cent.
Work in Murang'a County, where 153km of the main Mau Mau highway is being constructed, is estimated at 15 per cent. Sporadic rains have caused interruptions, mainly in the form of landslides, causing a new demand for ground stabilisation.
KeNHA said Gataka-Githiga-Kamahindu section in Kiambu County had 22km pending, while the Ngewa-Kibichoi-Wangui section has 50km.
According to Ezekiel Fukwo, the engineer supervising the project, the Mau Mau network spine will be done by the end of December.
Mr Fukwo said contractors were working to recover lost time during sunny days. "The terrain is also tough, but the teams on the ground are dedicated towards delivery within the specified time," he said.
The multi-billion shillings project under KeNHA will connect four Mt Kenya counties and Nakuru in Rift Valley.
The road is viewed as an honour to the Mau Mau war veterans, as they were first made usable as the liberation war raged in the Aberdare Forest.
"The Njabini-Naivasha tributary that will connect with the main spine inside the Aberdare Forest is set to be completed in November, and is presently at 67 per cent," said Fukwo.
The project also involves reconstruction of the existing Thika-Magumu highway, which also passes through the Aberdare Forest.
Construction of the 540-km highway has opened a craze for tourism expeditions in the area mainly dotted by picturesque tea growing ridges.
James Karanja, a businessman in Kandara, says the road will open up the area that had remained locked for decades, and accelerate development of the fertile hinterland.
"Once the road is completed, I will set up a milk cooler across Nyandarua, designed to empower farmers who have been selling their produce at throw-away prices to middlemen," said Mr Karanja.
Mercy Mwai, an entrepreneur, is scouting for the best suitable area for a tourist hotel. "Three weeks ago I toured the route from Kamahindu in Kiambu County," said Ms Mwai.
Transport CS James Macharia said no money was spent on land acquisition as the existing reserve was spacious enough.