Death toll in Gachie building collapse rises to three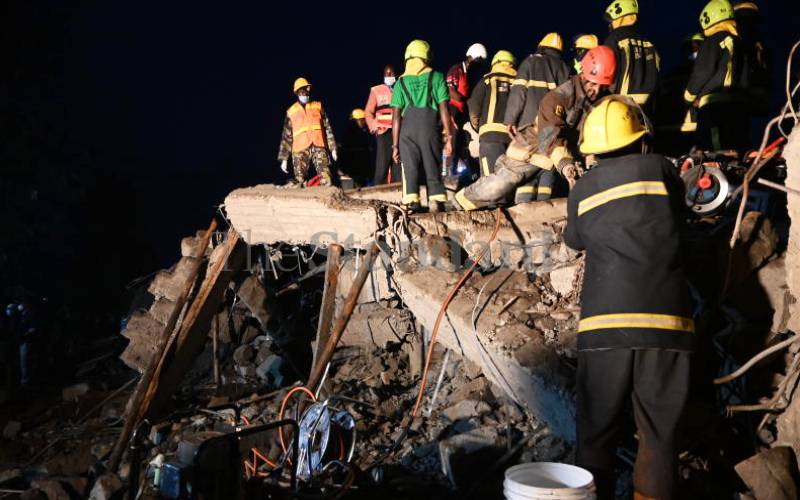 Two more bodies have been retrieved from the scene of the collapsed building in Gachie.
The total number of bodies retrieved now stands at three, with three still admitted at the Kihara hospital, area police boss Ali Nuno has said.
Ten people were taken to the hospital yesterday, but one died.
Nuno said the site engineer has not been at the scene, and therefore it is hard to ascertain how many people were working before the building under construction collapsed yesterday.
Rescue efforts are still underway.
The building is said to have caved in at around 2 pm when the workers were putting up a slab for the sixth floor.
This comes on the backdrop of an incident in which nine people died after a crane fell at a building under construction in Hurlingham.
According to Elisha Odhiambo, a mason at the site, he and colleagues were about to break for their lunch when they heard screams.
Odhiambo recounts how he spotted a colleague who was on top of the crane hanging in the air as the machine and the supporting concrete pillars came tumbling.
"We heard screams from the people who were operating the machine and when I looked up, I saw the operator on the ground under the weight of the crane," he recalls.
They had spent the better part of the day moving construction material to the 10th and 11th floors of the upcoming 14-storey Qwetu Student Residence.
The building where the accident happened is located opposite the Department of Defence Headquarters.
The workers, under the supervision of an expatriate from China, were using a 70-tonne crane.
Having completed the day's work which involved setting up the crane, they were looking forward to their one-hour lunch break when tragedy struck.
The machine that they were using came tumbling 70 metres down.