New potato handbook to change farmers' fortunes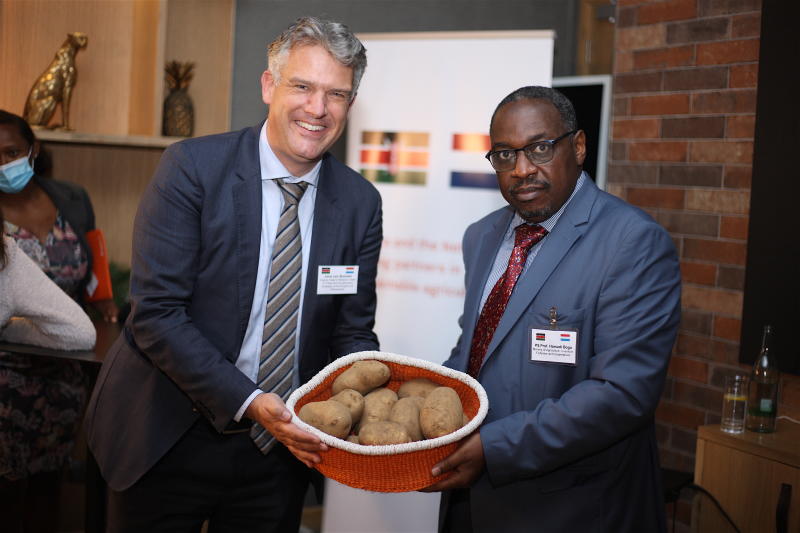 More than 3,000 farmers in Meru County have benefitted from training by the Dutch Government on potato cultivation and seed modification for better yields.
The Netherlands Embassy has partnered with the National and County governments from potato growing areas like Meru.
Speaking during the launch of a potato handbook titled Potato Signals, on International Potato day in Nairobi, Deputy Head of Mission at the Embassy of the Kingdom of the Netherlands Joris van Bommel said developing new varieties and technologies will help to make the potato more resilient to climate change.
The new book will guide farmers on how to cultivate potatoes using modern methods in a bid to achieve high yields and incomes.
Potato Signals covers all the important stages in potato growing, starting with preparation for planting and continuing right through to storing and delivering the potatoes.
"To optimise potato production good knowledge is essential for potato farmers. With its wide ranging of practical advice, Potato Signals will help you make better, well-informed decisions, eliminate weak points or simply get all the little details right," said Brommel.
He added: "We have also addressed the issue of new diseases which might crop up as a result of climate change."
At the moment, Kenya relies on the Netherlands for the importation of potato seed for production as the country hardly produces enough for farmers.
Principal Secretary in the Ministry of Agriculture Prof Hamadi Boga said their biggest concern as the government is to increase smallholder farmer income and this will only happen if they use certified seeds.
Boga said there are about 64 varieties of potatoes in the country and 34 are from the Netherlands as a result of the collaboration the two governments for the last ten years.
Meru County Agriculture Executive Carol Mutiga, said farmers have benefitted a great deal through massive training on the best practices.
"Initially farmers did not know the best seed for the best yield, but after teaming up with the Netherlands Embassy, production has improved," said Mutiga.