From milk man to water man: Irungus in race for Murang'a seat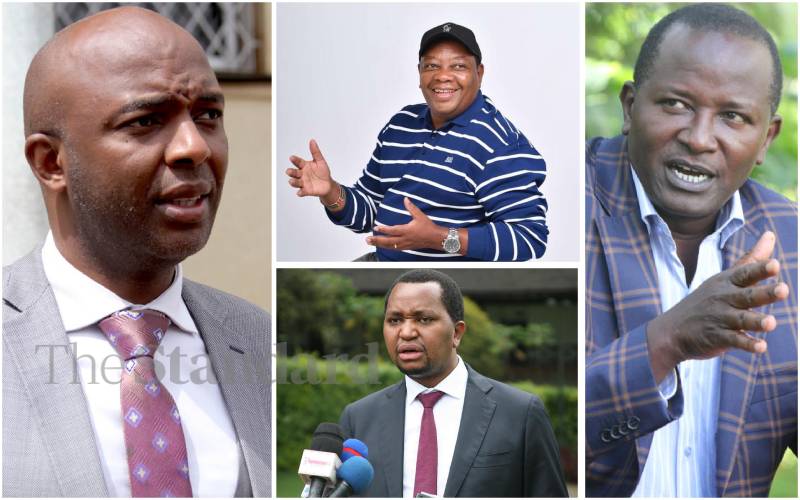 Four aspirants sharing a name have declared interest in the Murang'a governor seat in next year's elections.
In the past six months, the four Irungus have been making inroads in the villages in a bid to reach the 600,000 voters.
They are Murang'a Senator Irungu Kang'ata, Water and Irrigation Principal Secretary Joseph Irungu Wairagu, former Devolution Principal Secretary Irungu Nyakera and former Kigumo MP Jamleck Irungu Kamau.
To avoid burning their fingers in the name confusion, three of the aspirants have each invented a unique campaign slogan.
The Water PS is going by the name Wairagu wa Maai (Wairagu the water man), Nyakera "The Foreman" drawing from his championing of agricultural sector reforms, while Kamau's slogan is 'Jamu Nowe', focusing on an education fund he initiated to support students in his Kigumo backyard, where he was MP for two terms.
The incumbent governor himself, who is serving his final term, has a unique slogan, Mwangi wa Iria (Mwangi the milk man).
Kang'ata has identified himself with the United Democratic Alliance (UDA), affiliated to Deputy President William Ruto, as the political party that will sponsor him in the election.
Each of the four has been visiting the interior parts of the county, outlining their political agenda and policies should they win the election.
Others in the race are Murang'a Woman Rep Sabina Chege and Moses Mwangi, who, in the last two elections also shared a name with his competitor, the outgoing governor.
Kamau, who was a Nairobi Metropolitan minister in retired President Mwai Kibaki's regime, says it was during his tenure that Murang'a County was included in the Nairobi Metropolitan Zone, benefiting from multi-million-shilling development programmes.
"If elected the governor, I will take Murang'a to another level, as many of the current projects were conceptualised during my tenure in the Cabinet," he says.
Wairagu says he was instrumental in establishing water and sanitation projects in the county at a cost of Sh10 billion. The PS says he understands the challenges facing the residents, including lack of piped water when the area supplies the bulk of the water used in Nairobi.
Nyakera is focusing on the empowerment of tea and coffee farmers.
He says his past interaction with the farmers has shown him how poverty can be fought at the grassroots through well-established government policies.
Nyakera says when he served in the devolution docket, he developed proposals to put more than 16,000 acres in lower Murang'a under irrigation. He says he has identified six rivers locally that could be used to convert Murang'a into a national food basket.
Kang'ata says he is interested in improved healthcare and implementation of Minimum Guaranteed Return in coffee and tea sectors.