Submit details of old debts, Iria orders coffee factories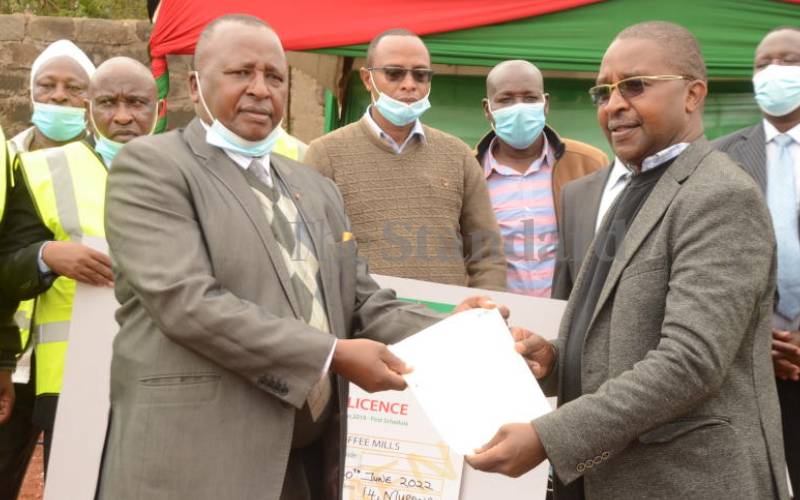 Coffee cooperative societies are engaging private auditors to conceal embezzlement of farmers' proceeds, it has been revealed.
In the past three years, the number of coffee cooperatives turning to private auditors have been on the rise, avoiding their accounts being scrutinised by auditors at the department of cooperatives idle.
A section of auditors revealed the existence of unexplained debts in the Murang'a County Coffee Cooperatives that led to deduction of farmers' proceeds at the payment.
"Private auditors conceal the financial status of the cooperatives and are exposed when farmers demand forensic audit into the operations of their outfit when suspending their management committee," said one auditor.
The revelation on the status of the coffee sector came after Murang'a Governor Mwangi wa Iria on Thursday ordered the coffee societies to submit the status of old debts to the county government for analysis.
While commissioning construction of Murang'a County Coffee Mills owned by Murang'a Farmers Cooperative, Iria said the audit of old debts will help establish the nature of transactions within the societies.
"We have cooperation with the various stakeholders on the improvement of the coffee sector to ensure going forward a kilo of coffee from Murang'a will not sell below Sh70," said the governor.
He said the county government, in efforts to improve the coffee sector, will ensure all the 144 coffee factories acquire eco-pulping stations that use less energy and water, to process more coffee.
Murang'a Coffee Union Chairman Francis Ngone asked the management committees to remit the details pertaining to the debts to the county government as soon as possible.