KTDA chairman Kanyago's position in limbo as farmers elect new directors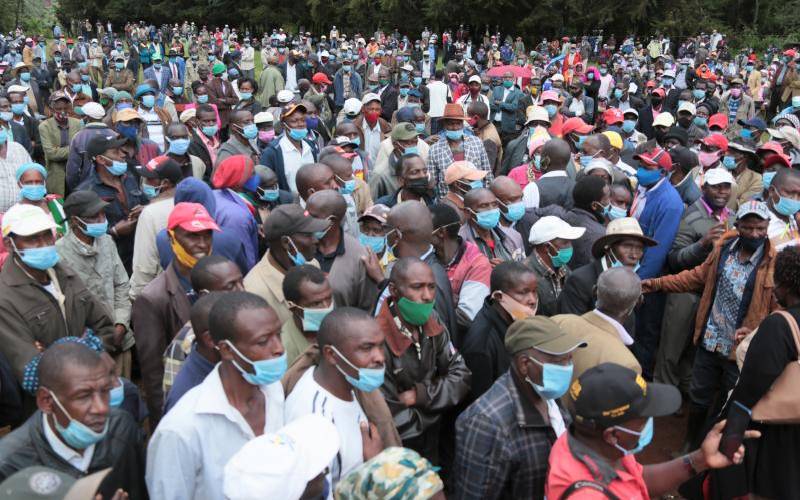 The fate of Kenya Tea Development Agency (KTDA) chairman Peter Kanyago hangs in the balance after the tea factory he has represented for the last 26 years elected a new delegate.
Chinga Tea Factory in Nyeri on Saturday, April 24, 2021, held elections for new directors to represent them in KTDA.
The polls saw a new director elected to represent Mumbuini West zone.
Mr Kanyago kept off the election.
Kanyago became chairman of the authority by virtue of being a director at Chinga Tea Factory in Nyeri for about 26 years.
The agency has sued the government after President Uhuru Kenyatta ordered the election of directors in tea factories be held before May 12.
By electing a new director, and barring an upset by a court ruling, the farmers might have succeeded in locking Kanyago out of the management of KTDA.
Chinga Tea Factory has six electoral zones with each electing a director.
Over 1,500 farmers participated in the peaceful polls held at the Chinga Public Library grounds under heavy police presence.
Chinga Tea Factory had postponed their elections when the other four KTDA affiliated factories in Nyeri County – Gitugi, Iriaini, Ragati, and Gathuthi – held their polls on April 10.
Mark Giteru emerged the winner of Mumbuini West zone, garnering 235 votes while his opponent Jane Wanjiku had 26 votes.
"I believe tea farmers have spoken. They want change in the management of tea sector affairs," Mr Giteru said.
He said the new directors would consult their lawyers on how to take up their responsibilities at KTDA.
In Mumbuini East zone, Canon David Kiberi was elected director while Christopher Kingori won with 291 votes in Mucharage.
Patrick Gachie was elected the director of the Gikigie zone with 338 votes while Gichichie farmers elected Margaret Njoki backing her bid with 204 votes.
Issac Maina was elected director of Gathera zone with 290 votes.
In Kirinyaga County, newly elected directors from zone five supported a forensic audit at KTDA
Twenty-five directors have so far supported the government's move to carry out tea reforms.
John Mithamo, director of Ndima factory, who is also vying for the chairmanship of zone five, said farmers have a right to demand accountability from the leaders in the sector.
"As directors from Kirinyaga, we support the government's move to do a forensic audit at KTDA to ensure that things are in order as a new team takes over," said Mithamo.