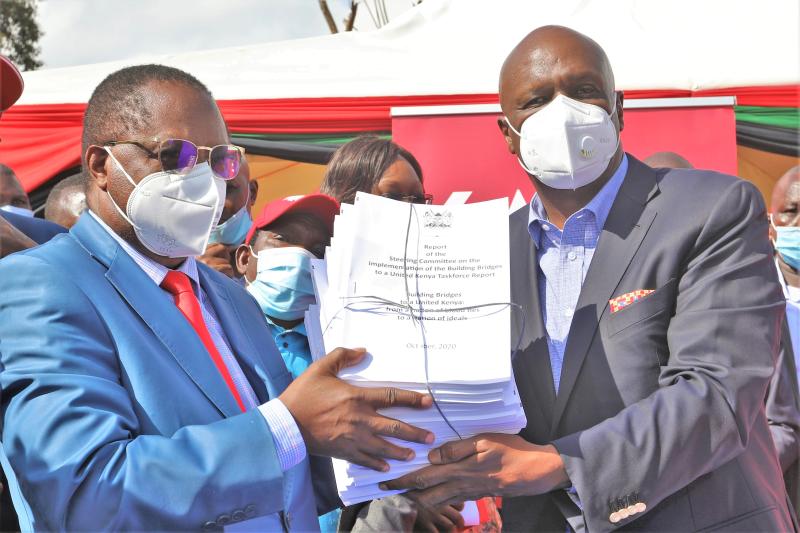 Baringo Senator Gideon Moi has challenged leaders to take a firm stand on the Building Bridges Initiative (BBI) report instead of flip-flopping.
Speaking in Embu yesterday, Gideon said leaders should either support the process or reject it "instead of blowing hot and cold".
"As a leader be principled and make a firm decision either to support the quest to amend the Constitution or say no. There is no need for you to remain indecisive," said the Kanu chairman.
The senator who was hosted by Embu Governor Martin Wambora said the Constitution of Kenya Amendment Bill, 2020 has already gained traction and cannot be stopped.
Read More
Addressing Kanu delegates at Talent Academy, the chairman challenged leaders to stop being indifferent and declare their stand on BBI. However, Gideon said leaders have a right to oppose the document.
He defended the BBI proposals saying they will ensure equity and take resources to the grassroots.
"These constitutional amendments are not about 2022 but a roadmap to a better Kenya where everyone's right is protected. With the amendments even the marginalised can produce a president," he said.
Wambora said it was an honour for the senator to visit Embu. The governor noted that Embu had surpassed the targeted 63,000 signatures to collect 102,000 in two days.
He explained that the proposal to increase revenue allocation to counties and creation of Ward Development Fund will greatly benefit residents.
Wambura said the proposal to create an extra constituency in Embu will improve service delivery to the people.
"Besides the 20 wards we will also have a constituency proposed to be Gaturi Constituency increasing the number of constituencies to five," he said
The senator was accompanied by Tiaty MP William Kamket and nominated Senator Abdishiro Halake.
Kamket said some leaders were opposing the document during the day, but supporting it at night.
The MP added that some of the leaders were weighing where the country was headed with BBI, but warned that it might be too late for them to join the winning team.
He said with President Uhuru Kenyatta's tenure coming to an end, residents must make a wise decision on the constitutional amendments. "You have all the reasons to stand and say you will support the constitutional amendments 100 per cent," Kamket said.
He told residents that Kanu has been invigorated and has the right leadership. Halake said BBI will foster inclusivity and ensure more women get positions of leadership.