Nyeri, Laikipia counties sign deal on shared services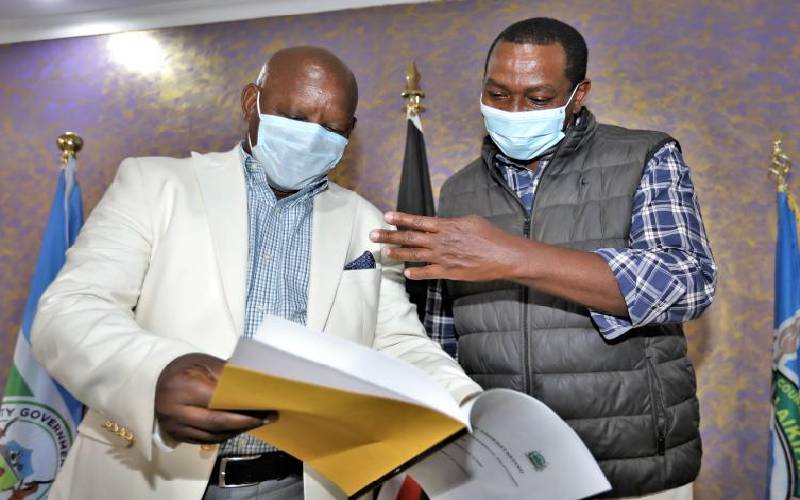 Laikipia and Nyeri county governments have signed a deal to enable residents living in border towns access services with ease.
The Memorandum of Understanding (MoU) to establish an inter-county governmental relationship targets about 20,000 people and provides the two county governments with a framework to work together in complementing service delivery and development projects in the border towns.
Speaking during the signing of the agreement, Nyeri Governor Mutahi Kahiga and his Laikipia counterpart Ndiritu Muriithi, said citizens from both counties should not be inconvenienced in accessing services on the weight of county boundaries and jurisdiction issues.
For instance, Muriithi said, those living in Gakawa and parts of Ichuga, which are in Nyeri, should be able to receive services from Nanyuki in Laikipia due to their proximity to the town.
"We must be able to complement one another in efficient service provision. The areas under Nyeri that are next to Nanyuki, for instance, the Laikipia side should be able to provide them with emergency services such as fire engines," said Muriithi.
Receive services
Similarly, the governor said, Laikipia residents of Solio villages 4 or 7, which neighbour Nyeri, should be able to receive services from Narumoru or Nyeri town.
Interestingly, Laikipia County Assembly compound in Nanyuki town is on the Nyeri side.
Among the services listed in the joint agreement include provision of water and sanitation facilities, land and physical planning services, health and revenue collection.
"We have tasked our teams implementing this to think very liberally and do everything possible to create efficiency in all areas," said Muriithi.
Inter-county boundaries have been a key contributor to clashes among government officials.
Recently, residents of Cottage Estate in Nanyuki were complaining over uncollected garbage as public health could not agree on the county responsible in the area.
Kahiga said the agreement strengthens the essence of devolution that requires counties to work together and not compete unnecessarily.
"We have areas that border each other and we are exploiting what is best for our people. It doesn't make economic sense to, say, send a fire engine from Nyeri to put out fire in centres within Nanyuki town. Half of Nanyuki is in Nyeri and the other is in Laikipia," he said.
The governor said his county needs land for sewerage system in Narumoru, but the available land is in Laikipia.