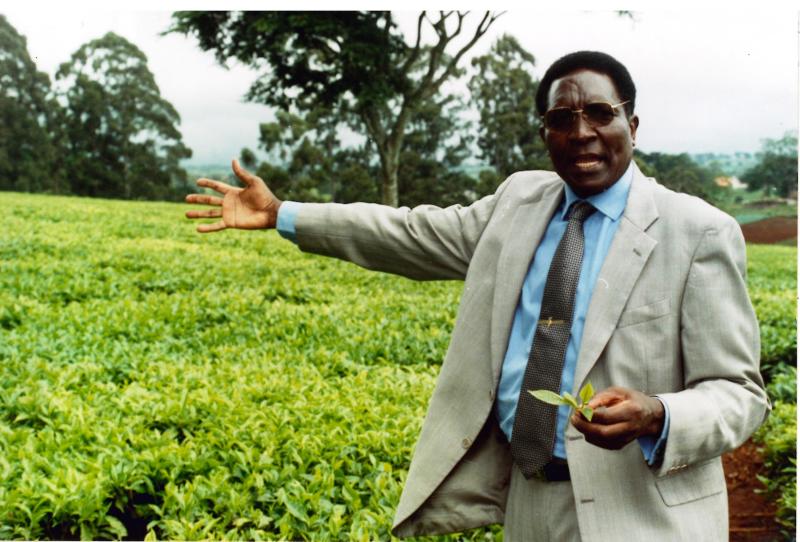 The succession battle for the late billionaire Nginyo Kariuki's Sh4 billion estate is unfolding, pitting his daughter Brenda Nyambura Kiragu's against the rest of the family.
For a man decorated during his burial as "a great patriot, prolific politician, synonymous with success and disciplined" and whom President Uhuru Kenyatta said was "very, very close to me", it was unimaginable his legacy would end up the beaten path of the other business moguls – court battles.
For the better part of his last decade, Nginyo spent a quiet life at the top floor office of his Nginyo Towers on Koinange Street, watching over an empire he had toiled for and discussing politics.
In his life, he had reached the pinnacle of financial success, with an impressive catalogue of investments. At the political level, he helped make Uhuru Kenyatta Kenya's fourth president through The National Alliance (TNA) party, which he founded.
Read More
"He will be remembered for his forthrightness in social engagements and razor-sharp investment mind. He leaves behind enduring imprints in the business and political landscape," Senator Gideon Moi said of Nginyo.
But no sooner had he died than a family dispute arose, lodged by a daughter whom he loved dearly. Nyambura, an advocate of the High Court, shared an office block with Nginyo at Nginyo Towers, and was the attorney for three of his companies.
Born out of wedlock but embraced closely by Nginyo, Nyambura wanted to be formally accepted as a child of the deceased ahead of his burial.
To avoid the drama this would have caused, the Kariuki's acquiesced, agreeing to DNA testing and filing a consent that they would abide by the results.
And abide they did, for in filing the petition for probate in June, Kariuki's wife Margaret and his four children; James, Silas, Scholastica and Jane, the named executors of his Will, listed Brenda among the dependents and beneficiaries of his Will.
The Kariukis also included in the list, alongside Nyambura, two other children of the deceased; Alex Ndoria and Austine Wachira, who were also born out of wedlock.
Nyambura's DNA analysis had affirmed that she was Nginyo's daughter.
The affirmation notwithstanding, what followed was a succession case she filed before Kiambu court, placing a caveat against Nginyo's family from dealing with his estate without notifying her; a heated exchange with banks holding Nginyo's businesses accounts; an objection in court challenging Nginyo's Will; and a commercial case against the banks and the other family members.
The patriarch had a simple Will, a three paged document dated June 13, 2014. Nyambura has contested it, saying the billionaire would not have forgotten that she was his biological daughter and that the signature does not resemble his.
In the Will, Nginyo appointed Margaret and four children as executors and trustees of his estate. He wrote before his lawyers RMW Watson that they should pay his debts, taxes and any other duties that were to be paid as a result of his death.
In the Will, he did not list his children. But he appointed some of them as executors of the Will.
"Provided always that if any of my children predeceases me, leaving a child or children who survive me and attain the age of 25, such a child will take, if more than one equally, the share of my estate, which his, her or their parent would have taken had he or she survived me," the Will reads.
Nginyo wanted his family to continue with the businesses he was engaged in and it was upon the remaining descendants to decide if they were to divest in the same in the event they were no longer viable. The witness to his Will was one John Kamau.
Nginyo had a number of companies. One was Pema Holdings Limited whose purpose was largely farming, managing land and estate, buying machinery, dealing with stocks and securities.
When the company was formed in 1963, it had three shareholders; Elizabeth Mumbi Madoka, Nginyo and Mohamed Jamal.
The second firm – Nginyo Investments Limited – was owned by him, his wife Margaret and his son. Nginyo held the majority stake of 83,500 shares followed by his widow who has at least 16,500 shares. The company was largely an investment vehicle for the family, with interests in real estate.
When it was formed on June 28, 1976, Nginyo and Margaret were the only shareholders, with him having three shares and her one. Nginyo and Margaret were also sole shareholders of Lenana Mount Hotel Limited and Swiss Lenana Mount Hotel Limited.
The other companies are Mtwapa Holdings Limited and Five Hills Company Limited.
Born in 1938 in Githima, Ndumberi, Kiambu County, Nginyo is said to have had more than Sh3 billion in properties, Central Bank Treasury Bonds worth Sh84 million. He had some fixed deposits worth Sh327 million and 120 acres of land in Tigoni.
He also held shares in BAT, East Africa Breweries Limited (EABL), KenGen, Kenya Airways, NCBA, Nation Media Group, all worth Sh17 million. His other shares in Nginyo Investments and Pema Holdings are said to be worth Sh221 million.
Two weeks after Nginyo's burial, on April 16, 2020, Nyambura fired her first salvo. She required that lawyers of the larger family should confirm whether Nginyo had left a Will and in the event he did not have one, they ought to inform her lawyers on when they were to file succession case before court in order to involve her.
"In any event, as at the date of receipt of the DNA test results and this letter, no court proceedings can be or have been instituted by your client and or her family owing to the measures put in place by the Kenyan Government to combat the spread of Covis-19 pandemic," her lawyer Joseph Murage wrote.
Oraro and Company Advocates then confirmed there was a written Will.
On May 5, she requested for the deceased's Will, and again on May 13. In the second letter, Nyambura's lawyer cautioned that the actions of her step-siblings would force her to caution the public from either engaging and or participating in activities that she perceived as meddling with the estate.
The following day, on May 14, she wrote another letter, asserting the same issue and on June 2, she wrote a "let us meet in court" warning, protesting that she was yet to receive the Will.
"This is the final correspondence you shall receive from us… It is regrettable that your clients have opted to go down the path they seemingly have chosen by failing to involve our client," her lawyers retorted.
Succession case
The family proceeded to file a succession case and named Nyambura as a child of the deceased, alongside Ndoria and Wachira. Even with the inclusion, Nyambura maintained the Will was not genuine.
In the succession case filed before the family court, Margaret is listed as the deceased's widow while Ndoria, Wachira and Nyambura are listed as sons and daughter number eight, nine and 10.
After filing her objection, Nyambura then turned her guns on the banks operating Nginyo's companies' accounts, asking them to freeze all the accounts relating to the deceased as there was an objection filed before the court.
"We have instructions to pursue any institution or individual who participated or participate in irregular activities involving the accounts belonging to and or affiliated with LNK and or his companies," her lawyers wrote to Consolidated Bank.
Similar demand
The lawyers also wrote to I&M and Co-operative banks with a similar demand. In her letter to I&M on August 6, Nyambura accused the lender of allowing withdrawal of money, and threatened to institute a criminal case against the bank and force it return the money allegedly withdrawn.
The bank wrote back on August 18, informing the lawyers that Nyambura was not a director and that Nginyo's companies can pass a resolution to appoint any other person as a signatory to the accounts. According to the bank, she did not provide any resolution or documents showing she had a right in the company.
Co-operative Bank also replied, asserting that the accounts it held were running as it had been instructed.
After the exchanges, she sued the banks, Margaret and her children before the commercial court.
Ndoria and Wachira's mother has also joined the succession battle, claiming to be Nginyo's widow.
Nginyo died on February 24, and was buried at his Tigoni home in Kiambu County.