Resettled families who sold their land back to poverty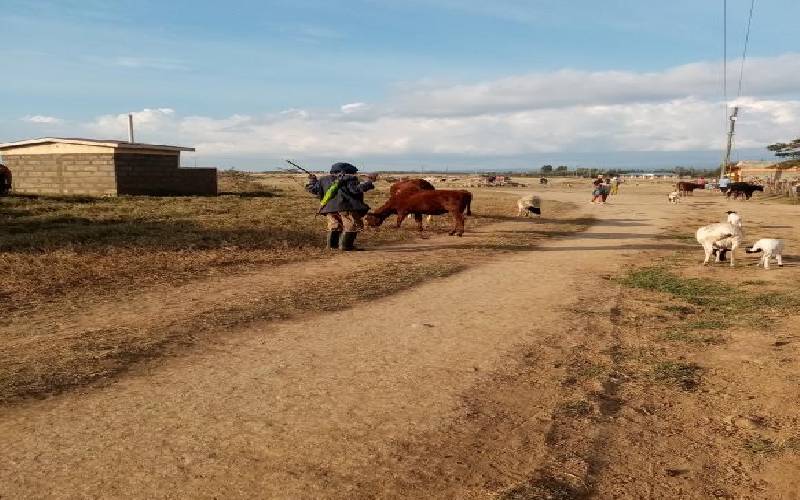 Life as a shoe shiner is not what Charles Kingori was ready for when he settled on his own piece of land in Solio Village 2 Settlement Scheme.
Kingori was among 150 families resettled in the scheme in 2009 after almost 20 years since they were evicted from Mt Kenya Forest. Until their eviction in 1989, the families lived in the forest where they ran the forestry department's shamba system.
He and his family had spent close to 18 years squatting on road reserves in Nyeri County around Mt Kenya and Aberdare Ranges until they were settled in 2009.
Homeless again
They were among the lucky families who benefited from the government resettlement scheme in Kieni. They were given four-and-a-half acres of agricultural land and a further one quarter for residential purposes at the Solio Settlement Scheme.
Under the scheme, the families were supposed to build a home on half-an-acre and cultivate the four acres.
Today, he is homeless again. He is among 50 beneficiaries who quickly sold their land and became homeless.
"At first, we were excited because the land was in my name. We had a home and land to farm on. But soon, reality sank in that we had no money to build, farm or pay school fees for our children," Kingori recalled.
"After two years on the land, I decided to sell two acres to get money for building materials.
"I got a buyer who paid me Sh70,000 per acre. We deposited the Sh140,000 in my wife's bank account," Kingori said.
And this was the beginning of a downward spiral for Kingori. The money soon ran out and once again he sold the other two acres.
Kingori was reluctant to explain how he spent the money and blames his current situation on poor choices they made as a couple.
"When the money problems became unbearable, our marriage fell apart. My teenage children dropped out of school and before I knew it, my wife had sold the half acre on which our home stood and walked out on me," he claimed.
Barely three years after he had settled his family in Solio Village 2, Kingori was broke, alone and landless - again.
"I left Solio and went to Karatina with only Sh5,000 in my pocket. We had sold our piece of land for a total of Sh640,000 but we had nothing," he said.
He used the Sh5,000 to start a shoe shining business at the main matatu terminus in Karatina town, which gives him Sh200 on a good day. He lives in a rented room in Karatina town.
He said his wife, who now lives in Narumoru town with the children, does odd jobs to fend for the family.
Muthee Gathera has been living in Nyahururu town for six years, doing odd jobs to sustain his family.
Gatheraa, 65, lives with his mother who he says is over 90 years old. He, too, sold his Solio Settlement Scheme land.
"I was raised in Kagochi area in Mt Kenya Forest. When the government evicted us from the forest in 1989, officials burnt down our homes inside the forest and left us to live on the roadside," Gatheraa said.
Lucky enough
He tried to find work in Meru County — to be hired to cut down trees — but soon went back to Kagochi when he didn't succeed.
"At the time, we were about 500 families and we had been promised that we would be resettled in Kabaru village in Kieni Constituency. While some 350 families were lucky enough to get land in Kabaru, the rest of us missed out," he said.
Like Kingori, Gatheera and his family moved to Solio in 2009.
"Everything was going well. I sold half an acre at Sh30,000 to buy some iron sheets for our house and my wife and I started farming. She then fell ill and the hospital bills started accumulating," Gatheraa said.
Working odd jobs and trying to maintain his family while his wife was hospitalised started taking a toll on him. He then started selling off his property.
He soon found himself with no more land to sell except where his house was standing, which he eventually sold.
In total, he pocketed Sh480,000 from the sale of his land. When his wife was discharged from hospital, she had no land or home to go back to.
"We moved to Nyahururu where my elderly mother had settled and now I live with my eight brothers and their families on one acre," he said.
"The government did the right thing to resettle us in Solio but left us to fend for ourselves. Most of us had nothing to our names except the pieces of land and so we sold it," he said.